Digital Citizenship
Project-Based, Problem-Based, or Inquiry-Based Learning? Routledge Eye On Education is heading to sunny Los Angeles for this year's ASCD conference!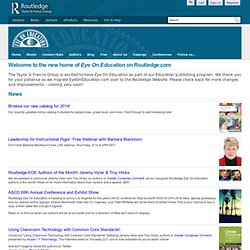 Stop by booth #333 for 20% off all titles, special giveaways, and our special author sigings! Victoria Bernhardt, Pete Hall, PJ Caposey, and Todd Whitaker will all be there at certain times! This is your chance to buy a copy of their latest title and get it signed! Read on to find out when our authors will be at our booth and for a selection of titles we'll have on display! Cell phone etiquette poster for your school or classroom.
If your school or classroom has updated outdated practices and policies and you are empowering students with the freedom to learn with the tools they own and love, then it is important to discuss responsible use.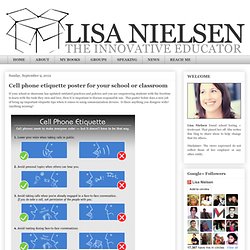 This poster below does a nice job of bring up important etiquette tips when it comes to using communication devices. Is there anything you disagree with? Anything missing? Via: Cell Phones Want ideas for using cell phones for learning? Sfreking: Digital Citizenship Primer... BlogWise. A Learning Hub to help educators, parents, (and kids!)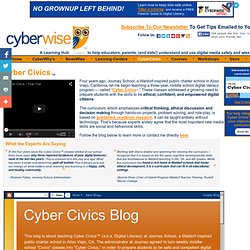 Understand and use digital media safely and wisely Learn how to keep kids safe online. Take a course and receive a FREE Parents' Guide to Digital Literacy. Interested in this curriculum? Responding to Cyberbullying: Guidelines for Administrators. In the Cyberbullying Toolkit Register now to download a printable pdf!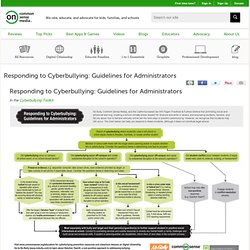 No Bully, Common Sense Media, and the California-based law firm Fagen Friedman & Fulfrost believe that promoting social and emotional learning, creating a school climate where respect for diversity and skills is valued, and educating students, families, and faculty about how to behave ethically online are the best ways to prevent cyberbullying. However, we recognize that incidents may still occur. The chart above can help you respond to these incidents, although it does not constitute legal advice. More Cyberbullying Prevention Resources. Digital Citizenship. Digital Citizenship Poster for Elementary Classrooms. Turn wired students into great digital citizens Get all the tools you need with Common Sense Media's FREE Digital Literacy and Citizenship Curriculum and Parent Media Education Program.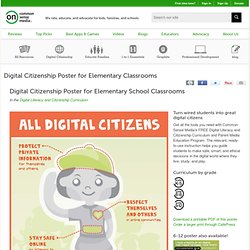 The relevant, ready-to-use instruction helps you guide students to make safe, smart, and ethical decisions in the digital world where they live, study, and play. Digiciti / FrontPage. Teaching and Modeling Good Digital Citizenship. Culture Flickr: Zawezome By Jennifer Roland Teens are savvier than we might give them credit for when it comes to knowing their privacy boundaries on social networking sites.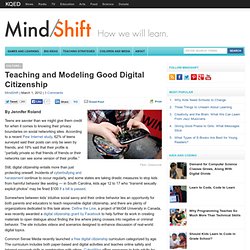 According to a recent Pew Internet study, 62% of teens surveyed said their posts can only be seen by friends, and 19% said that their profile is "partially private so that friends of friends or their networks can see some version of their profile." Students that learn digital citizenship at school are more likely to practice it at home. Introducing School-Wide Digital Citizenship Practices with iPads.
An elementary school in our district recently got 30 iPads and asked for some advice implementing them with students and teachers.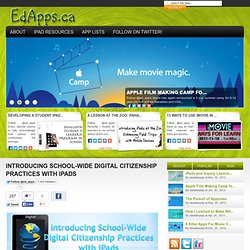 In addition to suggesting some starter apps, I recommended that we have conversations with kids around the appropriate use of these devices. While almost every child has used an iPad, iPod Touch, or iPhone, the exciting learning opportunities these mobile, Internet-connected, media creation devices create also open the door to new challenges. Cyberbullying or inappropriate web publishing happens more through the camera than regular computer use does; the mobility of the device combined with the reality that multiple users are using the device with no personalized, password-protected, network-tracked accounts makes it more challenging to keep track of who is doing what with the device or that the device itself is safe. Rather than tell the students how they should and should not use iPads, I felt compelled to involve the students in the conversation.
Free Download: Digital Citizenship Poster. Tagged with: digital citizenship As technology becomes more of an integral part of our society, it's important to help students understand appropriate use of social media tools and other digital citizenship skills.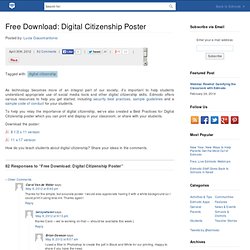 Edmodo offers various resources to help you get started, including security best practices, sample guidelines and a sample code of conduct for your students. To help you relay the importance of digital citizenship, we've also created a Best Practices for Digital Citizenship poster which you can print and display in your classroom, or share with your students. Download the poster: Digital Citizenship: Our Responsibility? YES! During the last meeting of the Flat Classroom Book Club (check out the recording HERE), the topic of discussion was Digital Citizenship.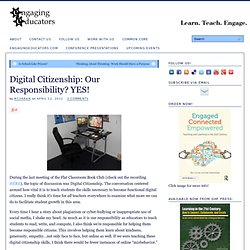 The conversation centered around how vital it is to teach students the skills necessary to become functional digital citizens. I really think it's time for all teachers everywhere to examine what more we can do to facilitate student growth in this area.
---