Recipes
Egg Plant and Pasta : trifuel.com
Egg Plant and Pasta courtesy of trifuel member mike101 I come from a long line of meat and potato eaters so when I found myself preparing this it even surprised me. If youre vegetarian this meal is right up your alley.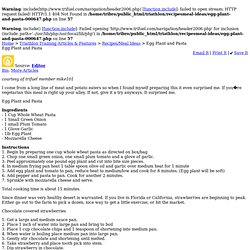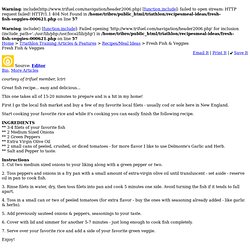 Fresh Fish & Veggies : trifuel.com
Fresh Fish & Veggies courtesy of trifuel member, lctri Great fish recipe... easy and delicious... This one takes all of 15-20 minutes to prepare and is a hit in my home! First I go the local fish market and buy a few of my favorite local filets - usually cod or sole here in New England.
Chicken Breast w/ Whole Wheat Noodles courtesy of trifuel member, mike101 Dinner was grilled chicken breast on whole wheat noodles covered with toasted nuts in olive oil. A small salad joined the main dish. Desert was poached pear with a little chocolate sauce. This meal is easy, and takes about 20 minutes start to finish to prepare.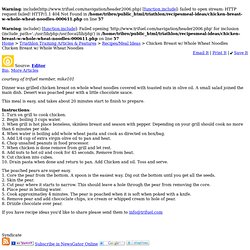 Chicken Breast w/ Whole Wheat Noodles : trifuel.com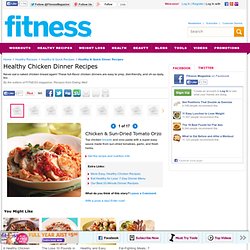 Chicken & Sun-Dried Tomato Orzo Top chicken breasts and orzo pasta with a super-easy sauce made from sun-dried tomatoes, garlic, and fresh herbs. Get the recipe and nutrition info What do you think of this story? Leave a Comment. Thai Chicken Pizza
Healthy Chicken Dinner Recipes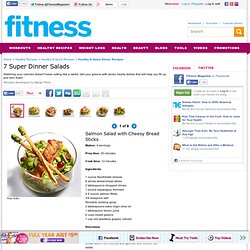 7 Super Dinner Salads
Salmon Salad with Cheesy Bread Sticks Makes: 4 servings Prep time: 20 minutes Cook time: 12 minutes
Dinner in 20: Easy, Healthy Dinner Recipes
Beef Stir-Fry with Avocado Salad Recipe developed by Anna Berman Makes: 4 servings Prep time: 10 minutes Cook time: 10 minutes Ingredients: 12 ounces beef tenderloin, cut into thin strips 1/4 cup freshly squeezed lime juice 1 tablespoon plus 1/2 teaspoon chili powder 1 tablespoon vegetable oil 1 medium sweet onion, thinly sliced 1 red bell pepper, thinly sliced 1 poblano, thinly sliced 1/2 teaspoon salt 1/2 teaspoon black pepper 1 can black beans, rinsed and drained 1 avocado, diced 1/4 cup Cojita cheese, crumbled 1/4 cup cilantro plus more for garnish, chopped Corn tortillas (optional) Directions: 1. In a bowl, combine beef, 2 tablespoons lime juice, and 1 tablespoon chili powder; set aside. 2.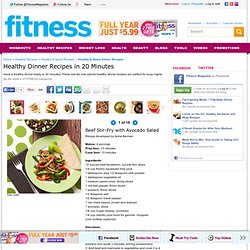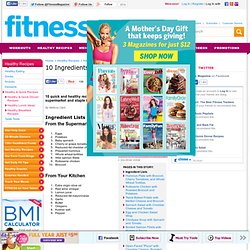 10 quick and healthy recipes using supermarket and staple ingredients. By Melissa Clark Ingredient Lists From the SupermarketEggs Potatoes Baby spinach Cherry or grape tomatoes Reduced-fat cheddar cheese Prepared hummus Whole wheat tortillas Wild salmon fillets Rotisserie chicken Broccoli From Your KitchenExtra virgin olive oil Red wine vinegar Lemon juice Reduced-fat mayonnaise Garlic Butter Oregano Kosher salt Pepper What do you think of this story?
10 Ingredients, 10 Healthy Dishes
Healthy Stir-Fry Recipes : Shape.com: Diet, Fitness, Recipes, He
10 Quick, Simple Dinner Ideas : Shape.com: Diet, Fitness, Recipe
10 Quick, Simple Dinner Ideas : Shape.com: Diet, Fitness, Recipe