Recipes
Egg Plant and Pasta : trifuel.com
Egg Plant and Pasta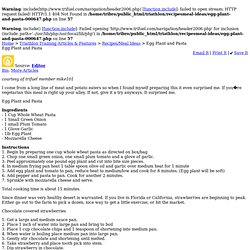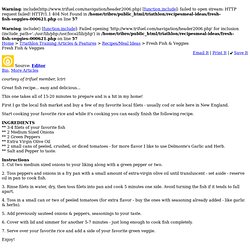 Fresh Fish & Veggies : trifuel.com
Fresh Fish & Veggies
Chicken Breast w/ Whole Wheat Noodles courtesy of trifuel member, mike101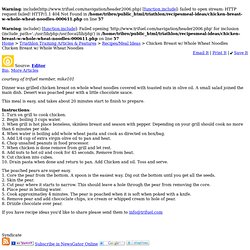 Chicken Breast w/ Whole Wheat Noodles : trifuel.com
Healthy Chicken Dinner Recipes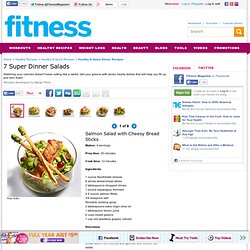 7 Super Dinner Salads
Watching your calories doesn't mean eating like a rabbit.
Think outside the brown-rice box and tap the slimming powers of whole grains like bulgur, barley, and quinoa with these 6 delicious, satisfying dishes. Makes: 4 servings Prep time: 15 minutes Cook time: 55 minutes Ingredients 1/2 cup hulled barley* 3/4 teaspoon salt 1/2 cup farro** 1/4 cup bulgur 2 tablespoons red wine vinegar 2 tablespoons minced red onion 1 smashed garlic clove 1 cup drained, rinsed cannellini beans 1 pint grape tomatoes, quartered 1 cup torn fresh basil leaves 3 tablespoons olive oil Black pepper 1/4 cup shaved Parmesan
6 Healthy Whole-Grain Dinners: Bulgur, Barley, and Quinoa Recipe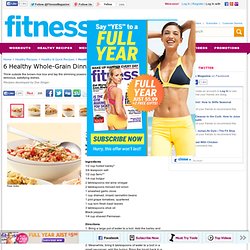 Dinner in 20: Easy, Healthy Dinner Recipes
Have a healthy dinner ready in 20 minutes! These low-fat, low-calorie healthy dinner recipes are perfect for busy nights.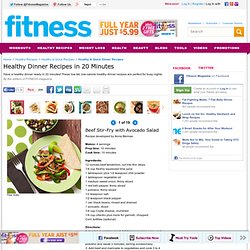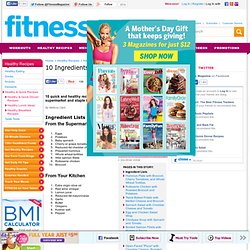 10 quick and healthy recipes using supermarket and staple ingredients.
10 Ingredients, 10 Healthy Dishes
Healthy Stir-Fry Recipes : Shape.com: Diet, Fitness, Recipes, He
Healthy Stir-Fry Recipes : Shape.com: Diet, Fitness, Recipes, He
10 Quick, Simple Dinner Ideas : Shape.com: Diet, Fitness, Recipe
10 Quick, Simple Dinner Ideas : Shape.com: Diet, Fitness, Recipe