Purchasing Tickets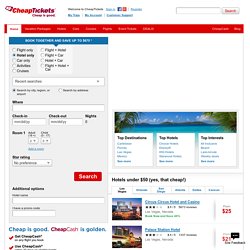 Looking to save on travel? When it comes to cheap flights and cheap hotels, we're your thrifty best friend. You'll find fantastic flight deals on airline tickets and hotel deals on cheap hotels every time you visit.
Airline Tickets, Cheap Flights, Airfare, Cheap Air Plane Tickets
Cheap Flights, Airline Tickets, Cheap Hotels, Rental Cars & Vaca
Cheap Flights - Compare Airline Tickets & Find Cheap Airfare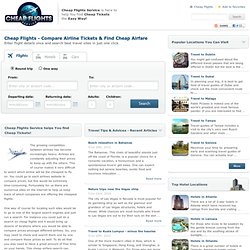 The growing competition between airlines has become increasingly heavy. Airlines are constantly adjusting their prices to keep up with the others. This of course makes it very difficult to select which airline will be the cheapest to fly on. You could go to each airlines website to compare prices, but this would be extremely time-consuming.
Featured Ticket Links Southwest Vacations: Save up to 60% on Hotels by Cristina Puscas | July 10th, 2012 Summer is one of the most popular times of the year to travel. The outdoor activities are in full swing and there are plenty of festivals to check out, too, especially if you plan to visit the cities .
Cheap Air Tickets - Cheap Ticket Links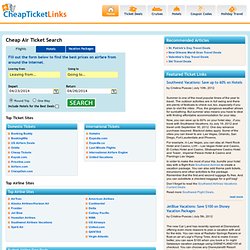 Cheap Airline Tickets, Cheap Flights,Flight Tickets & Airfare
A Smart Customers Choice: Fly with AirTkt Customer Review Thank you so much for the customer service you have provided, excellent work. I will be waiting for my e tickets thanks you very much again.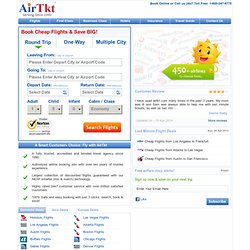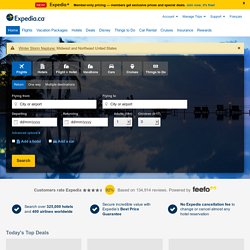 When it comes to travelling, Expedia.ca makes everything a breeze; like finding the best beach resort or booking cheap tickets for your next business trip. From airfare to vacation packages, we have all the tools you need to put together the getaway of a lifetime. Expedia not only makes it easy, we also have your budget in mind. Thanks to Expedia's Best Price Guarantee, you can rest assured you get the best deals on any of your bookings. The perfect vacation starts with the perfect place to stay.
Travel Tips and Resources
Air Travel Tips Learn how to find a cheap airfare, avoid baggage fees, get the best seat on the plane and more. Packing Tips Avoid spills and baggage fees with our handy packing tools, including an interactive packing list. Hotels and B&B's