Breathe
10 Instant Emotional Fitness Tools. When things get out of control and you momentarily lose your emotional balance, there are any number of little things you can do to regain it.
Here are ten tools to help get you started. 1. Wash your hands and face and brush your teeth. Carlsaganexistence.jpg (590×801) 38 Life Lessons I've Learned in 38 Years | zen habits. Relaxing music, sleep-aids, anxiety reduction, relaxation tools. 5jt65.jpg (2628×2628) 30 Things to Stop Doing to Yourself. Post written by: Marc Chernoff Email When you stop chasing the wrong things you give the right things a chance to catch you.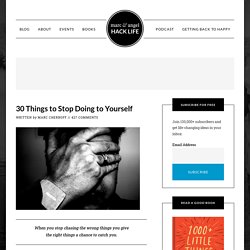 As Maria Robinson once said, "Nobody can go back and start a new beginning, but anyone can start today and make a new ending." Coin.jpg (388×497) Laugh.jpg (600×480) 25 Beautifully Illustrated Thought-Provoking Questions. 405 Flares Facebook 137 Twitter 5 Google+ 194 StumbleUpon 1 Pin It Share 68 68 405 Flares × A question that makes you think is worth asking… At the cusp of a new day, week, month, or year, most of us take a little time to reflect on our lives by looking back over the past and ahead into the future.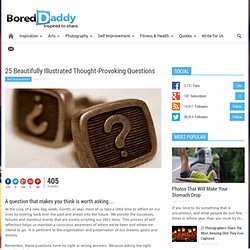 We ponder the successes, failures and standout events that are slowly scripting our life's story. This process of self reflection helps us maintain a conscious awareness of where we've been and where we intend to go. It is pertinent to the organization and preservation of our dreams, goals and desires. The Dalai Lama's 18 Rules For Living.
May 6, 2011 | 42 Comments » | Topics: Life, List At the start of the new millennium the Dalai Lama apparently issued eighteen rules for living.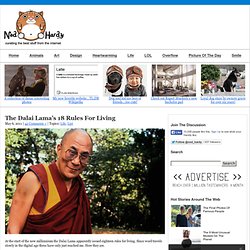 Since word travels slowly in the digital age these have only just reached me. Here they are. Take into account that great love and great achievements involve great risk. Do Nothing for 2 Minutes. 50 Life Secrets and Tips.
---