Cute
Caught 1-1/2 miles offshore while Fishing! Corgi Cross Breeds Are Cute (25 Pictures) Home > Pictures > Corgi Cross Breeds Are Cute (25 Pictures) The other day we showed you an adorable picture of a Corgi/Husky mixed dog (1st picture below), and we got thinking, what other aww-inducing Corgi mixed breeds are there?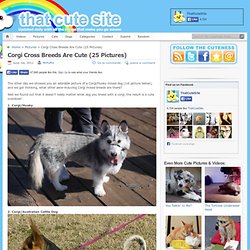 Well we found out that it doesn't really matter what dog you breed with a corgi, the result is a cute overdose! 1. Corgi/Husky. Box cat. 33 Oddest Animal Couples. In the Animal Kingdom, friendship often cross the lines of genus and species and results in some oddball inter-special relationships like this.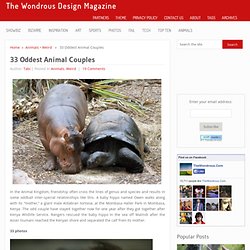 A baby hippo named Owen walks along with its "mother," a giant male Aldabran tortoise, at the Mombasa Haller Park in Mombasa, Kenya .The odd couple have stayed together now for one year after they got together after Kenya Wildlife Service. Rangers rescued the baby hippo in the sea off Malindi after the Asian tsumani reached the Kenyan shore and separated the calf from its mother. 33 photos Dema, a 26-day-old endangered Sumatran Tiger cub cuddles up to 5-month-old female Orangutan, Irma at the 'Taman Safari Indonesia' Animal Hospital in West Java, Indonesia. This hamster should be dinner, not a snake's best friend – and in fact zookeepers offered up Gohan the hamster (whose name means "meal" in Japanese) as a tasty snack when Aochan the snake refused to eat frozen mice. Kittens_baby_skunks_sm.
Sokoblovsky Farms - Russia's Finest Purveyors of Miniature Lap Giraffes. Winter Wonderland: 34 Amazing Pictures of Animals. 39.6K Flares39.6K Flares × Winter photography can bring you great ideas and inspiration.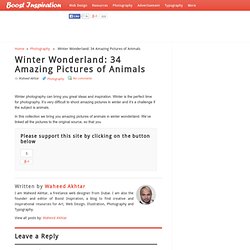 Winter is the perfect time for photography. It's very difficult to shoot amazing pictures in winter and it's a challenge if the subject is animals. In this collection we bring you amazing pictures of animals in winter wonderland. We've linked all the pictures to the original source, so that you. 3 year old Genius. Kittens on a Slide. Girraffe and Dino love T Shirts.
---