Wedding Dresses
Taffeta Ball Gown with Layered Tulle Skirt. Organza A-Line Gown with Angled Draped Pick-Ups. Justin Alexander Worldwide - Wedding Gowns, Dresses and Evening wear. Satin Faced Organza Gown with Illusion Piece. A waist accent made from woven material that is flexible, yet has structure that allows it to create beautiful, voluminous bows.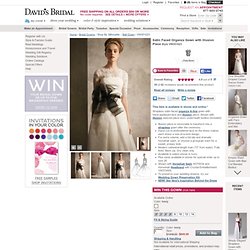 The term horsehair refers to a braided fabric used in couture dress hems to add body or structure. Our horsehair sash is designed with a finer filament for a smooth look and feel. V Neck Ball Gown with Fully Draped Skirt. "I purchased this dress for my upcoming wedding in August.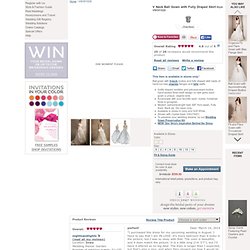 I have to say that I am IN LOVE. It's more ballroom than it looks in the picture, but I was so okay with that. The color is beautiful, and it does match the picture. Ball Gown with Asymmetrically Draped Bodice. "I saw this dress online and instantly fell in love.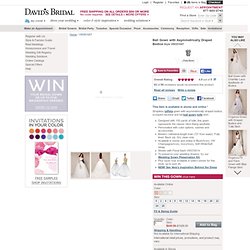 I could not try dress on as I am in Australia so I ordered through a friend and had it sent here. The second I got my dress and tried it on it was the most beautiful dress and I was so relieved I followed my heart and instincts. Empire Waist Gown with Bias Cut Banded Bodice. "Do you want to feel like a princess on your Big Day without being dragged down by all the froo-froo of the old-school princess style?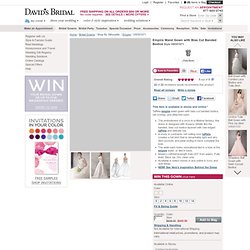 Then this dress is for you! I absolutely fell in love with this gown the moment I put it on. It fit into our theme beautifully and just felt right … you know what I mean. :) The fabric is lightweight and a pretty "soft" shade of white. Ball Gown with Corded Lace Bodice and Tulle Skirt. "This dress absolutely made my wedding day more special than I could have ever imagined.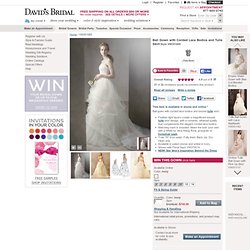 I felt like a queen. It was such a breath of fresh air compared to every other dress I tried on in David's Bridal, which I thought were cookie-cutter and boring, that I knew I couldn't leave without it. This dress has the perfect amount of simple detail. I wanted lace, but not an overwhelming amount. The corded lace bodice is unique, whimsical, and elegant, and for some reason it reminded me of a vintage tapestry, which is a huge plus.
Basket-Weave Organza Ball Gown.
---