Web 2.0 tools
The Epic BYOD Toolchest (51 Tools You Can Use Now) You've got every device under the sun in front of you.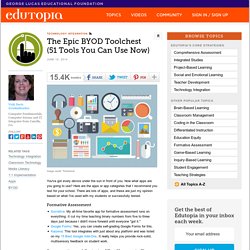 Now what apps are you going to use? Here are the apps or app categories that I recommend you test for your school. There are lots of apps, and these are just my opinion based on what I've used with my students or successfully tested. SmartBlog on Education - How to give students a voice in their education - SmartBrief SmartBlogs SmartBlogs. Those who know me, know that student voice is one of my biggest passions in education.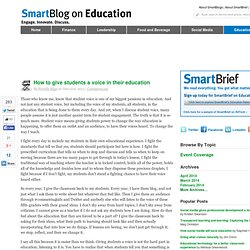 And not just any student voice, but including the voice of my students, all students, in the education that is being done to them every day. And yet, when I discuss student voice, many people assume it is just another quaint term for student engagement. The truth is that it is so much more. Student voice means giving students power to change the way education is happening, to offer them an outlet and an audience, to have their voices heard. To change the way I teach. Narrable. The 4 Essential Organization Apps For Your Classroom—And Tons of Ideas For Using Them. Mobile Learning | Feature Page 2 of 2 The 4 Essential Organization Apps For Your Classroom—And Tons of Ideas For Using Them inClass.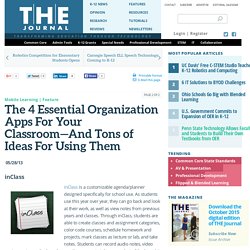 Books
6 Apps You Should Be Using with Evernote. Mashable calls it a second brain, Evernote is a powerful productivity app that, I believe, every teacher should be using.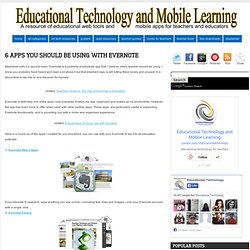 I know you probably have heard and read a lot about it but that elephant logo is still sitting there lonely and unused. It is about time to tap into to and discover its marvels.
Qr codes
Educational Technology and Mobile Learning: How to Twitter in 60 Seconds. Our Educational Twitter section here in Educational Technology and Mobile Learning is growing bigger and bigger.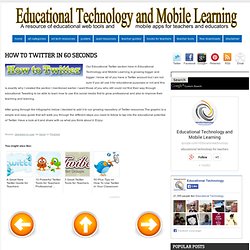 I know all of you have a Twitter account but I am not sure if you all use it for educational purposes or not and this is exactly why I created the section I mentioned earlier. I want those of you who still could not find their way through educational Tweeting to be able to learn how to use this social media first to grow professional and also to improve their teaching and learning. Digital Photo Fun. Evernote_-_MakeUseOf.com. The 33 Digital Skills Every 21st Century Teacher should Have. Every single teacher is concerned about his/ her teaching practices and the skills involved in this process.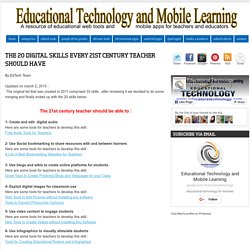 How many times have you wondered about a better way to teach the same lesson you have delivered to an eariler class? How often have you used technology to engage your students and improve their learning ? These are some recurring questions we keep regurgitating each time our teaching skills are put to the test. It is amazing how technology has changed the whole world giving rise to new forms of education we never thought of. Educational Technology - LiveBinders Shelf. Educational Technology Buzzwords. Jul 22 Thanks to Boundless and Getting Smart for putting together and sharing this great infographic outlining the latest trends in Educational technology.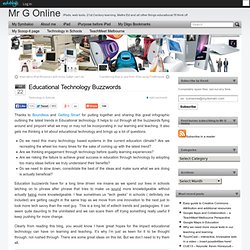 It helps to cut through all the buzzwords flying around and pinpoint what we may or may not be incorporating in our learning and teaching. A Free Complete Guide to Evernote. 17 Cool Tools for the School Year. About us Courses & workshops Consultancy services Clients & publications Tools & webquests Blog > Our Blog.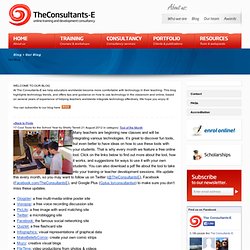 Top 10 Video Apps for your iPhone or other mobile device. I had a life changing experience this past January.
No, not one that will live in infamy. And no, not one that is really a big deal anymore for many people. Edu-pinning: Pinterest in Education « ErHead. My name is Erin Paynter and I am addicted to Pinterest.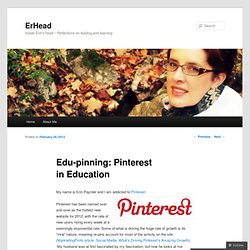 Pinterest has been named over and over as the hottest new website for 2012, with the rate of new users rising every week at a seemingly exponential rate. Some of what is driving the huge rate of growth is its "viral" nature, meaning re-pins account for most of the activity on the site (MarktetingProfs article: Social Media: What's Driving Pinterest's Amazing Growth). My husband was at first fascinated by my fascination, but now he looks at me quizzically and asks, "Seriously, what's it for?".
It's All About Learning. Having been on Twitter for almost 7 months now, I am still amazed at the professional development I experience on a daily basis from people on Twitter. Some days, I only spend 10 minutes on Twitter in the morning, but even in that time, I still learn a great deal! There are always gems that people are posting including, links of blog posts or articles, and positive messages to retweet (RT). In the last few months, since the beginning of our Engaging the Digital Learner Dinner series the Information Technology Helping Teachers have been hosting, people have been expressing more interest in technology and Twitter as a learning tool.
Essential Tech Tools for NEW and Experienced Educators. What am I introducing to New Teachers as Essentials? While I focus heavily on the TPACK framework during teaching, here are a few of the TECHNOLOGY TOOLS/KNOWLEDGE that my course (s) includes: In my current role as a Pre-Service Instructor at Brock University, I have small window of opportunity to introduce (and model) to new teachers to 21st Century Education.The following sites, and resources are what I consider to be the essentials of 21st Century tools (although there are many many more). These are my "I can't live without" tech tools as learner and teacher. I am listing the best time-saving, collaborative, and integrated tools around! So open up your book marking tool, your Smartpen, or your favourite note taking device and save them for later, because you will need them to survive in the fast pace of 21st Century learning.
---