Thesis introduction
Essay: Is there an optimal degree of sustainability? Corporate sustainability is not a one size fits all concept.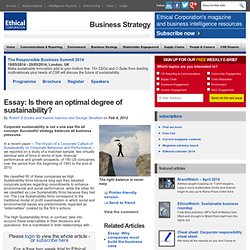 Successful strategy balances all business pressures In a recent paper – The Impact of a Corporate Culture of Sustainability on Corporate Behaviour and Performance – we reported on a study of a matched sample, two virtually identical sets of firms in terms of size, financial performance and growth prospects, of 180 US companies over the period from the beginning of 1993 to the end of 2010. Towards the Circular Economy. As part of the Ellen MacArthur Foundation's mission to accelerate the transition to the circular economy, we have conducted analysis and published the first ever report series highlighting the economic rationale for the transition to a circular economy – an opportunity in excess of 1 trillion USD for the global economy.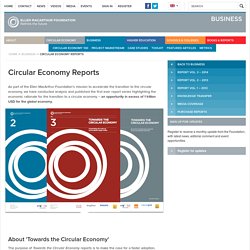 About 'Towards the Circular Economy' The purpose of Towards the Circular Economy reports is to make the case for a faster adoption, quantify the economic benefits of circular business models, and lay out pathways for action. McKinsey & Company, a global management consulting firm, provided the overall project management, developed the fact base and delivered the analytics for the Towards the Circular Economy reports. Executive summaries and full reports are available to download in PDF format for free, with hard copies available to purchase from this website. A Blueprint For A Circular Economy: Reusing And Refurbishing For Prosperity. Important question: How can we maintain global prosperity when natural resources are increasingly scarce, the planet is in increasing disrepair, and 3 billion people are expected to join the "middle class" by 2030?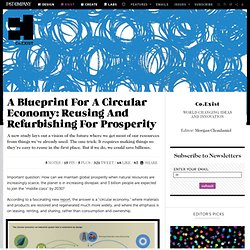 According to a fascinating new report, the answer is a "circular economy," where materials and products are restored and regenerated much more widely, and where the emphasis is on leasing, renting, and sharing, rather than consumption and ownership. "In a circular economy, products are designed for ease of reuse, disassembly and refurbishment, or recycling, with the understanding that it is the reuse of vast amounts of material reclaimed from end-of-life products, rather than the extraction of resources, that is the foundation of economic growth," the study says.
In fact, this is no wild-eyed dreaming. Capitalism as if the world matters - Jonathon Porritt - Google Books. Green Growth, sustainable economic growth, climate change, environment. WEF Reports – New Sustainability Champions 2011. The report Redefining the Future of Growth: The New Sustainability Champions, prepared with The Boston Consulting Group (BCG), highlights innovative business practices from companies originating and operating in emerging markets.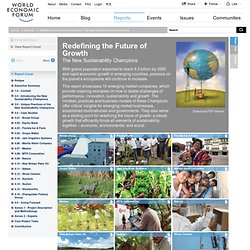 By focusing on a group of 16 exemplary companies called the New Sustainability Champions, the report shows how those businesses create unconventional and profitable solutions that positively impact economic growth and enhance overall sustainability in their regions. Taking into account criteria covering sustainability, innovation, scalability, geography and size, the World Economic Forum and BCG analysed over 1,000 businesses in the preparation of this report and identified 16 fast-growth companies that share a unique mindset and set of practices.
2011 World Population Data Sheet. Connecting Heart to Head. Leaders of Alcoa and PUMA, two forward-looking multibillion-dollar global companies, describe a framework for sustainable growth.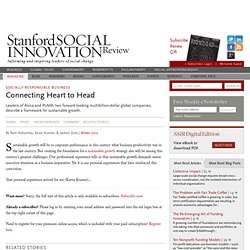 Sustainable growth will be to corporate performance in this century what business productivity was in the last century. But creating the foundation for a sustainable growth strategy also will be among this century's greatest challenges. Our professional experience tells us that sustainable growth demands senior executive attention as a business imperative.
Yet it is our personal experiences that have reinforced this conviction. Millennials in the Workplace by Q Ideas. When Tom from the film (500) Days of Summer was asked why he had never achieved his dream of becoming an architect, his response dripped with sarcasm: "I guess I just figured, why make something disposable like a building when you can make something that lasts forever, like a greeting card."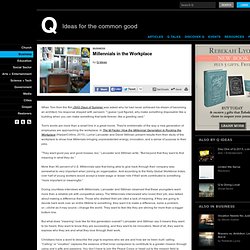 Tom's words are more than a smart line in a great movie. They're emblematic of the way a new generation of employees are approaching the workplace. In The M Factor: How the Millennial Generation Is Rocking the Workplace (HarperCollins, 2010), Lynne Lancaster and David Stillman present results from their study of the workplace to show how Millenials bringing unprecedented energy, innovation, and a sense of purpose to their jobs.
"They want good pay and good bosses, too," Lancaster and Stillman write. "But beyond that they want to find meaning in what they do." The Business Of Impact Is The Business Of The Future. Today, more than ever, for-profit ventures have the capability to change culture quickly and with huge impact.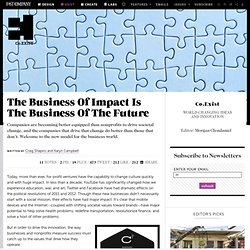 In less than a decade, YouTube has significantly changed how we experience education, war, and art; Twitter and Facebook have had dramatic effects on the political revolutions of 2011 and 2012. Though these new businesses didn't necessarily start with a social mission, their effects have had major impact. It's clear that mobile devices and the Internet--coupled with shifting societal values toward brands--have major potential to help solve health problems, redefine transportation, revolutionize finance, and solve a host of other problems.
---