Practices
The Policy Governance® Model. [This article was originally published as "Le modèle Policy Governance et les organismes sans but lucratif" in the Canadian journal Gouvernance - revue internationale, Vol. 2, nos. 1, Winter 2001, pp. 30-48.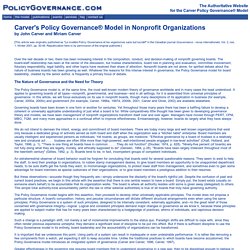 Republication here is by permission of the original publisher.] Over the last decade or two, there has been increasing interest in the composition, conduct, and decision-making of nonprofit governing boards. Www.holacracy.org | Exquisite Organization. Barrett Values Centre. The Barrett Seven Levels of Consciousness Model describes the evolutionary development of human consciousness.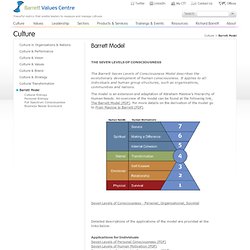 It applies to all individuals and human group structures, such as organisations, communities and nations. The model is an extension and adaptation of Abraham Maslow's Hierarchy of Human Needs. Www.valuescentre.com/uploads/2010-07-06/The 7 Levels of Organisational Consciousness.pdf. Blueprint of WE Collaboration Document.
---