Booking
JetSetter
SniqueAway
Tablet - Private Sale for Global Nomads at Tablet Hotels
Voyage Privé est un club privé spécialiste de la vente de voyages haut de gamme au meilleur prix.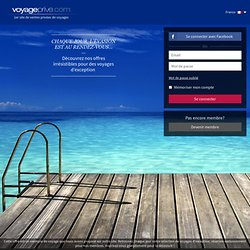 Members-only Sales Luxury Hotels & Resorts
Hotel Deals from TripAlertz - Discount Bookings on Premium Hotels and Resorts | TripAlertz.com
If you've got travel plans for the upcoming holiday season, the time to book your tickets is now . The question is, where can you find tickets cheap enough to offset the extra $40 you'll have to spend to check your bags and enjoy a snack on your six-hour flight. Earlier this week we asked you to share your favorite travel web site for cheap tickets, and today we're back with the five most popular answers.