Tutorials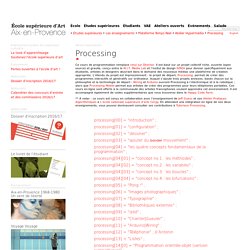 Ce cours de programmation remplace celui sur Director . Il est basé sur un projet collectif riche, ouverte (open source) et grauite, conçu entre le M.I.T. Media Lab et l'insitut de design IVREA pour donner spécifiquement aux étudiants, artistes et designers œuvrant dans le domaine des nouveaux médias une plateforme de création appropriée. L'étendu du projet est impressionnant : le projet de départ, Processing , permet de créer des programmes interactifs et génératifs sur ordinateur. Auquel s'ajoute trois projets annexes, basés chacun sur la philosophie et la technologie de départ : Wiring et Arduino ouvrent Processing à l'électronique et à la robotique ; alors que Processing Mobile permet aux artistes de créer des programmes pour leurs téléphones portables.
SecondLife HowTo
Designing a WordPress Theme From Scratch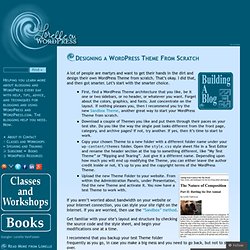 A lot of people are martyrs and want to get their hands in the dirt and design their own WordPress Theme from scratch. That's okay. I did that, and then got smarter.
wikimapia blog