Treemaps
Audio Kinematics
:: texone.org :: code :: tree ::
Several people have asked me how I produced the visualizations that I used in my talk on del.icio.us . While those visualizations were constructed with a rather eclectic mixture of homebrewed code, assorted applications, and a good bit of elbow grease, I decided to put together a tutorial for people who might be interested in this type of visual exploration, but are not inclined to write custom Perl code to do so. Hence, I have selected a combination of two very nice applications for Mac OS X - Anthracite and OmniGraffle - to produce similar visualizations. Neither application is free, but both have free trial periods, should you be inclined to check them out.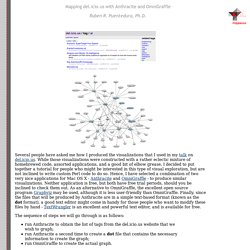 Mapping del.icio.us with Anthracite and OmniGraffle
Standard treemaps often lead to thin rectangles. We have developed a new method to display files : Squarified treemaps. The screen is subdivided such that rectangles approach squares as closely as possible. The screenshot gives an example. Ever wondered why your hard disk is full?
The SequoiaView Homepage