puredata
Get flash to fully experience Pearltrees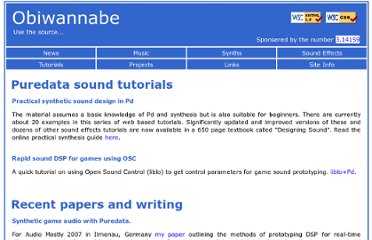 Puredata sound tutorials Practical synthetic sound design in Pd The material assumes a basic knowledge of Pd and synthesis but is also suitable for beginners. There are currently about 20 examples in this series of web based tutorials. Significantly updated and improved versions of these and dozens of other sound effects tutorials are now available in a 650 page textbook called "Designing Sound". Read the online practical synthesis guide here .
In this webpage we present a web browser plug-in for real-time audio synthesis.
netpd is a CRNMME ( C ollaborative R ealtime N etworked M usic M aking E nvironment) built in Pure Data . It allows many users to have a realtime jam sessions with each other, connected over the net. Users might contribute their own netpd-ized patches a.k.a. instruments or use pre-existing ones.