Portal
iusethis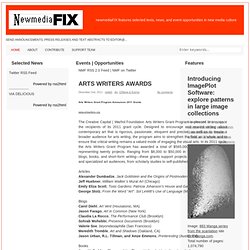 newmediaFIX
Interviewed by Molly Hankwitz, Contributing editor, NewmediaFIX Peggy Nelson is a Boston-based new media artist, writer, and filmmaker, who has been exploring Twitter as a medium for literary interaction with audiences, and using various high- and low-tech tools to explore urban history and psychogeographic casts upon places. Nelson's work is part of trends in art and writing to more fully engage public spaces through use of new technologies to probe and intervene in the surface layers of human memory, thought and interaction.MH: Twitter literature, what is it and how is it collaborative?
News at Seven
OpenContent
DNS Stuff
The Cyberspace and Critical Theory Overview
.microsound
.microsound is an unmediated mailing list oriented toward discussion of the styles of digital and post-digital music promulgated by the proliferation and widespread adoption of digital signal processing (dsp) tools. .microsound is not a "genre" mailing list, since this proliferation has occurred largely without regard for stylistic boundary. instead, .microsound presents itself as a forum for the discussion and exploration of a more general "digital aesthetic" manifesting across a wide variety of styles and disciplines -- from academic computer music to post-industrial noise to experimental ambient and post-techno. a by no means exhaustive list of related artists and labels appropriate for discussion can be found here.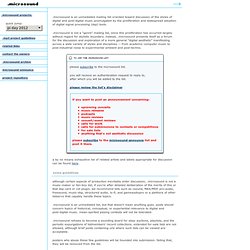 20kbps rec.
ePanorama.net
Artfacts.Net
Sound & MIDI Software For Linux
"I wonder how things would have turned out if these techniques had been available 40 years ago. A great step forward!" - Peter Zinovieff (Composer/Musician/ex-EMS Chairman) GRENOBLE, FRANCE: music software company XILS-lab is proud to anno... "I wonder how things would have turned out if these techniques had been available 40 years ago.
Harmony Central
GENERATIVE.NET
generative.net is a collaborative collection of artworks, research and experiments by artists and academics interested in the possibilities of generative art. Much of this work manifests itself as digital artwork, or online interactive experiences. We collect links to online works of interest with the aim of archiving this information permanently, and we run a mailing list that facilitates discussion and posting of relevant materials. We have also hosted the GENERATOR exhibition 's web site and have an interest in supporting projects that promote and further the understanding and use of generative techniques in art, design and commerce.