Platform
Mycosm. Wonderland. Project Darkstar. Metaplace Unveiled. Call it Second Life on the web, call it an MMO markup language, call it the most powerful open-standards, web-driven game platform ever made public — however you end up describing it, we finally have the main details to go on.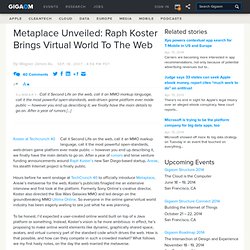 After a year of rumors and terse venture funding announcements around Raph Koster's new San Diego-based startup, Areae, his stealth Internet project is finally public. Hours before he went onstage at TechCrunch 40 to officially introduce Metaplace, Areae's metaverse for the web, Koster's publicists finagled me an extensive interview and first look at the platform. Formerly Sony Online's creative director, Koster also directed the Star Wars Galaxies MMO and led design on the groundbreaking MMO Ultima Online.
So everyone in the online game/virtual world industry has been eagerly waiting to see just what he was planning. To be honest, I'd expected a user-created online world built on top of a Java platform or something. Metaplace deconstructed. So, Areae finally announced Metaplace , their web based virtual world construction service.
Based on the conversation I had with John and Raph a few months ago I think they have the whole "game world as canvas" domain sewn up. I'll be a user as soon as they ship, though they haven't released a target date to the public. Some things to keep in mind: Wonderland. Project Looking Glass. Ogoglio.
---