Platform
Mycosm
What is Mycosm? The Mycosm platform enables software developers to build powerful real-time 3D business visualization and simulation solutions. Mycosm provides game-quality graphics combined with realism and accuracy.
wonderland
Skip to Content Sun and Oracle Community Voices How to Buy Log In United States [Change] English Sun Labs is no longer providing active support for Project Darkstar and the projectdarkstar.com web site. Activity is continuing in other forms and other venues such as the RedDwarf Server project that has been established as a community fork of Project Darkstar. Sun Labs would like to thank all those who have supported the activities of Project Darkstar over the years, and we extend our best wishes to community members for future success in all their endeavors.
Project Darkstar
Metaplace Unveiled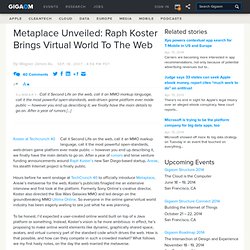 Call it Second Life on the web, call it an MMO markup language, call it the most powerful open-standards, web-driven game platform ever made public — however you end up describing it, we finally have the main details to go on. After a year of rumors and terse venture funding announcements around Raph Koster's new San Diego-based startup, Areae, his stealth Internet project is finally public. Hours before he went onstage at TechCrunch 40 to officially introduce Metaplace, Areae's metaverse for the web, Koster's publicists finagled me an extensive interview and first look at the platform. Formerly Sony Online's creative director, Koster also directed the Star Wars Galaxies MMO and led design on the groundbreaking MMO Ultima Online. So everyone in the online game/virtual world industry has been eagerly waiting to see just what he was planning. To be honest, I'd expected a user-created online world built on top of a Java platform or something.
So, Areae finally announced Metaplace , their web based virtual world construction service. Based on the conversation I had with John and Raph a few months ago I think they have the whole "game world as canvas" domain sewn up. I'll be a user as soon as they ship, though they haven't released a target date to the public. Some things to keep in mind:
Metaplace deconstructed
wonderland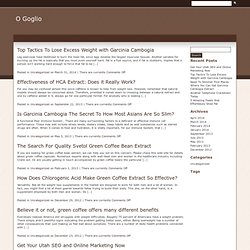 Ogoglio
For you may be confused almost this since caffeine is known to help from weight loss. However, remember that natural models should always be consumed alone. Therefore, provided it comes down to choosing between a natural extract and one by caffeine added in it, always go for one particular former.