Organism
Know Your Enemy - Internet Threats and Web Security. Symantec Security Response is a worldwide team of security engineers, threat analysts, and researchers who develop a variety of content on the latest threats that impact organizations and end users.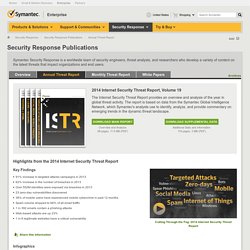 Archives 2014 Internet Security Threat Report, Volume 19. Malwarez. Review of "Digital Contagions" by Joseph Nechvatal. DIGITAL CONTAGIONS: A Media Archaeology of Computer Viruses by Jussi Parikka (Peter Lang Books, 2007, 327 pages); Reviewed by Joseph Nechvatal.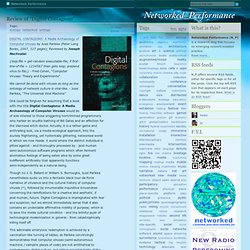 We cannot be done with viruses as long as the ontology of network culture is viral-like. - Jussi Parikka, "The Universal Viral Machine" One could be forgiven for assuming that a book with the title Digital Contagions: A Media Archaeology of Computer Viruses would be of sole interest to those sniggering hornrimmed programmers who harbor an erudite loathing of Bill Gates and an affection for the Viennese witch-doctor. Actually, it is a rather game and enthralling look, via a media-ecological approach, into the acutely frightening, yet hysterically glittering, networked world in which we now reside.
---