Literature
The Golden Bough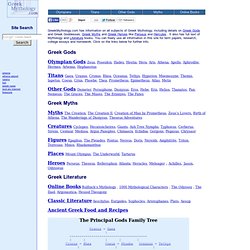 Greek Mythology
Contact: . Copyright 2000-2013, GreekMythology.comTM.  For more general info on Greek Gods, Greek Goddesses, Greek Heroes, Greek Monsters and Greek Mythology Movies visit Greece.com Mythology. All information in this site is free for personal use. You can freely use it for term papers, research papers, college essays, school essays.
Bringing the wisdom of the classics to the Internet since 1994. The Internet Classics Archive by Daniel C. Stevenson, Web Atomics. World Wide Web presentation is copyright © 1994-2009, Daniel C.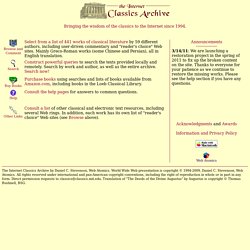 Greg Egan'
Peitho's Web Home: Classics
Early Greek Philosophy, by John Burnet Our web version of the 3rd edition (1920) of Burnet's classic work includes his notes and some Unicode Greek. Check out the Section Index. The Divine Sappho Featuring H.T. Wharton's Sappho, The Divine Sappho includes more than 120 fragments of Sappho in Unicode Greek and English translation, plus a biography and a wealth of Sappho resources and links. Thucydides, featuring the Jowett Translation The complete Jowett translation of Thucydides, with Jowett's notes, a linked index to the speeches in Thucydides, and much more.