Ideas
Maeda's SIMPLICITY: Real Abstractions
Vectors
Graph Visualization Graph visualization is a way of representing structural information as diagrams of abstract graphs and networks. It has important applications in networking, bioinformatics, software engineering, database and web design, machine learning, and in visual interfaces for other technical domains. Graphviz is open source graph visualization software. It has several main layout programs. See the gallery for sample layouts.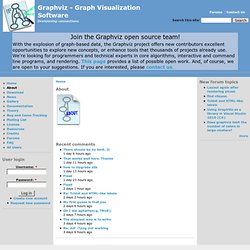 0 0 0 9
One of twelve results at the Minciu Sodas virtual laboratory. Tools for thinking, and the faculties of thought they support. We all come up with new ideas every day. Executives, scientists, politicians, authors, and others who lead large projects need to take a global perspective on thousands of ideas. Minciu Sodas will help team them up with custom programmers who can creatively combine databases, word processors, Internet applications, and tools from this survey. Of special interest to: Project leaders, custom programmers.
Tools for Thinking
Tools for Organizing Thoughts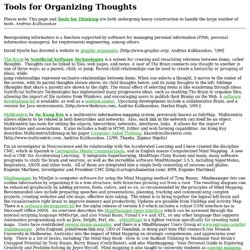 Please note: This page and Tools for Thinking are both undergoing heavy construction to handle the large number of tools. Andrius Kulikauskas Reorganizing information is a function supported by software for managing personal information ( PIM s, personal information managers), for requirements engineering, among others.
Editor-in-Chief: Joseph C. Pitt , Virginia Tech, Vol. 11, no. 1 (Fall 2007) - previous editors: Paul Durbin 1995/97; Peter Tijmes 1997/99; Davis Baird 2000/07 The PDF articles are available to the Virginia Tech community only effective January 2010. If you are affiliated with the university, you may need to access them using the Off Campus Sign In. Current issues are available from the Philosophy Documentation Center. Techné: Research in Philosophy and Technology was previously published as Techné: Journal of the Society for Philosophy and Technology and Society for Philosophy and Technology .
Techné: Research in Philosophy and Technology
Essays on the Philosophy of Technology
angermann2
The different internments of spaces of enclosure through which the individual passes are independent variables: each time one us supposed to start from zero, and although a common language for all these places exists, it is analogical . One the other hand, the different control mechanisms are inseparable variations, forming a system of variable geometry the language of which is numerical (which doesn't necessarily mean binary). Enclosures are molds , distinct castings, but controls are a modulation , like a self-deforming cast that will continuously change from one moment to the other, or like a sieve whose mesh will transmute from point to point.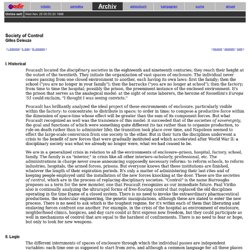 Society of Control
UTLS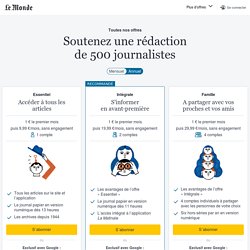 S'abonner au Monde à partir de 1 € Découvrez les avantages de l'Édition abonnés Consultez votre journal et ses suppléments partout et 24 h / 24 h, sur Web, tablettes et iPhone. Accédez aux articles payants et aux 25 années d'archives du Monde depuis 1987. Profitez des grands dossiers de la rédaction du Monde , de l'actualité remise en perspective. Les newsletters thématiques rédigées par les journalistes du Monde .