Earth
Globe. Kml. The Data Liberation Front. Why is it important that I have access to this data?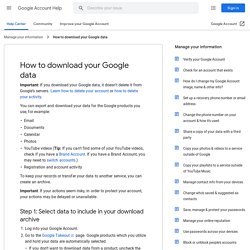 It's important that you can access your Google data when you want it, where you want it - whether is it to import it into another service or just create your own copy for your archives. People usually don't look to see if they can get their data out of a product until they decide that they want to leave. For this reason, we always encourage you to ask these three questions before starting to use a product that will store your data: Can I get my data out in an open, interoperable, portable format? Best Google Earth Interface Videos. Google Earth PhotoOverlays. Valery Hronusov has been playing with Google Earth 4.2 beta's implementation of KML 2.2, and has come up with a couple of things worth sharing: Flash: On Windows machines (but not Mac and Linux), you can embed a whole Flash applet in a placemark popup balloon (not just YouTube videos), and it will work just as if it were in a browser.
Webcams: This works on Mac, PC and Linux versions of 4.2, so it is immediately useful: Have a <PhotoOverlay> point to an image generated by a webcam, and set the <refreshInterval> tag to the same interval as the webcam's interval. Voila, a webcam image that is perfectly positioned: (Notice how the small thumbnail image refreshes as well.) Google Mashup Editor. 29 hours of code. Posted by Andrew Bowers, Developer Programs Google Code, that is.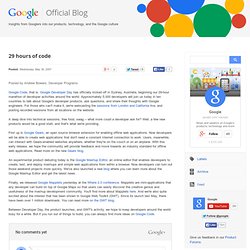 Google Developer Day has officially kicked off in Sydney, Australia, beginning our 29-hour marathon of developer activities around the world. Approximately 5,000 developers will join us today in ten countries to talk about Google's developer products, ask questions, and share their thoughts with Google engineers. For those who can't make it, we're webcasting the sessions from London and California live, and posting recorded sessions from all locations on the website. A deep dive into technical sessions, free food, swag -- what more could a developer ask for? The Gapminder World 2006. Ajax Map Bake off. Apps for Your Domain. Google Maps Creation Tools and Resources. There are so many great tools, how-tos and examples out on the web and in the blogosphere for creating and enhancing Google Maps mashups.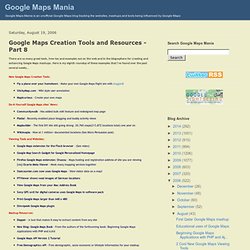 Here is my eighth roundup of these examples that I've found over the past several weeks.. New Google Maps Creation Tools: Fly a plane over your hometown - Make your own Google Maps flight sim with Goggles! Google Video. Untitled.
---