Interesting Products
FlightAware - Flight Tracker / Flight Status / Flight Tracking. Photo Sharing. Your Photos Look Better Here. Online Diagram & Flowchart Software - Collaboration Tool | LucidChart. Now available on iPad, iPhone, and iPod Touch.
Wolfram|Alpha—Computational Knowledge Engine. Www.hipmunk.com. Products - Fotopedia Heritage - Buzz. Fotopedia Heritage : celebrating the beauty of the world Fotopedia, in cooperation with the UNESCO World Heritage Centre, is proud to present Fotopedia Heritage, which brings together 20 000 photos, illustrating 890 World Heritage Sites and 3000 points of interests, thanks to the contribution of thousands of photographers and hundreds of curators.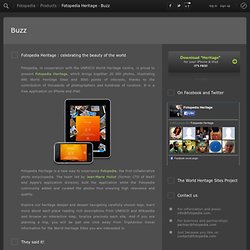 It is a free application on iPhone and iPad.
---