No-poo
HB's favorite vinegar rinse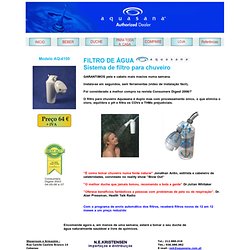 GARANTIMOS pele e cabelo mais macios numa semana. Instala-se em segundos, sem ferramentas (vídeo de instalação fácil). Foi considerado a melhor compra na revista Consumers Digest 2006/7 O filtro para chuveiro Aquasana é duplo mas com processamento único, o que elimina o cloro, equilibra o pH e filtra os COVs e THMs prejudiciais. "É como tomar chuveiro numa fonte natural" Jonathan Antin, estilista e cabeleiro de celebridades, convidado no reality show "Blow Out" "O melhor duche que jamais tomou, recomendo a toda a gente" Dr.Julian Whitaker
Aquasana.com.pt - AQ-4100
Chuveiro Ecologico - Lisboa - Casa - Jardim - Móveis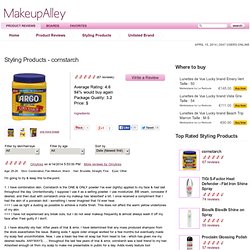 cornstarch reviews
harrisss on 12/31/2013 1:15:00 PM More reviews by harrisss Age: 36-43 Skin: Dry, Fair, Warm Hair: Brown, Wavy, Fine Eyes: Green Brilliant!!!! I have grown my hair quite long and find that just one day after washing it, it appears limp and flat. I try to wash my hair only twice a week, so I began the hunt for a good but inexpensive dry shampoo. I quickly became disheartened because the cheaper drugstore brands all contain denatured alcohol which dries my hair to a crisp.
Celebrity Gossip | Fashion | Beauty | The Hollywood Hotspot.com
New Mom Toolkit: How to Use Dry Shampoo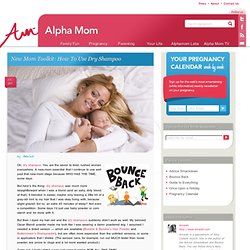 Jul20 by Amalah Oh, dry shampoo. You are the savior to tired, rushed women everywhere. A new-mom essential that I continue to use well past that new-mom stage because WHO HAS THE TIME, some days. But here's the thing: dry shampoo was much more straightforward when I was a blond (and an ashy, dirty blond at that).
pssst
s Natural Living » How to No-Poo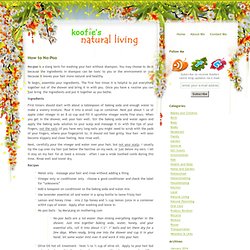 No-poo is a slang term for washing your hair without shampoo. You may choose to do it because the ingredients in shampoo can be toxic to you or the environment or just because it leaves your hair more natural and healthy. To begin, assemble your ingredients.
hi all - a little timeline of my no 'poo journey so far... i've had some little wins but still need help with my scalp! - - i was no 'poo, only did occasional herbal rinses, i lived in an area with soft water, grew out my (chemical) hair dye, had healthy hair, felt great about life! - - moved to a place with hard water, started using organic shampoo/conditioner twice a week, chemical dyes again, developed what seemed like psoriasis (scaly, itchy, sometimes PAINFUL), my hair started falling out, wished i'd never moved! i tried coconut oil, hot oil treatments, essential oils, none worked. - - went total cold turkey on everything, did an occasional ACV rinse but otherwise tried not to get my hair wet or even touch it (was scared it would fall out), it felt greasy, limp, dull, but strangely also dry!! and my scalp was driving me crazy!
the no 'poo method