Art
UbuWeb | Winter 2014 Robert Ashley, 1930-2014 UbuWeb mourns the passing of the great American composer Robert Ashley. You can listen to his music and invterviews here, watch his films here, read about him here. If you're unfamiliar with his work, the best place to start is Peter Greenaway's documentary Four American Composers: Robert Ashley (1983).
UbuWeb
ubu gallery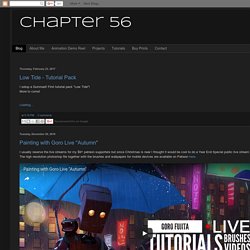 Hi there! An update was long overdue. I was working on a new layout for my blog for a while now since I thought that people have trouble finding my portfolio and tutorials through my website.
Chapter 56
finallogo101www
Candy Chang
Carmichael Gallery
Distinction Gallery and Artist Studios
Herakut
Galeria Karandash
JONATHAN LEVINE GALLERY
Juxtapoz Magazine
Yumiko Kayukawa : Rock You in a Tatami Room : Shooting Gallery SF
OBEY GIANT - WORLDWIDE PROPAGANDA DELIVERY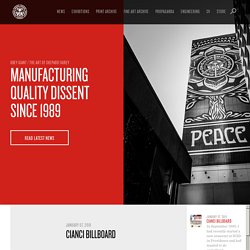 50 Shades of Black Box Set Accompanying the artworks featured in the upcoming 50 Shades of Black opening, Shepard Fairey has created a limited edition box set with screen prints of each of his 50 new album cover designs inspired by the 12-inch record cover format. The 50 Shades of Black box set is the largest number of images to date and is a work of art itself! Each box set is a limited edition of 200 and includes 50 signed and numbered screen prints of all new album cover designs, as well as an album cover stencil, an LP sticker sheet, and a certificate of authenticity. The box is hand made and features the Sound and Vision LP graphic on the cover presented in gold foil stamping with embossed highlighting throughout. These will be available in limited quantity for in-person only purchases during the opening on Wednesday, April 16; no phone orders and credit card only please.
phil hale
Islas Sobre Tierra by ~FoRe-F
PAINTINGS 2010–2011
ashley wood
Google Image Result for http://www.fanboy.com/archive-images/Hellblazer_The_Fear_Machine-01.jpg
Get Set Art Festival Mini-Website
PAINTINGS 2010–2011
The Model / Jack B. Yeats: The Outsider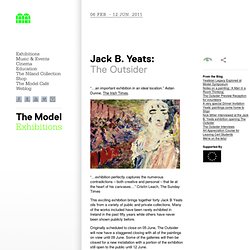 "…an important exhibition in an ideal location." Aidan Dunne, The Irish Times. "…exhibition perfectly captures the numerous contradictions – both creative and personal – that lie at the heart of his canvases…" Cristín Leach, The Sunday Times This exciting exhibition brings together forty Jack B Yeats oils from a variety of public and private collections. Many of the works included have been rarely exhibited in Ireland in the past fifty years while others have never been shown publicly before. Originally scheduled to close on 05 June, The Outsider will now have a staggered closing with all of the paintings on view until 09 June.
Architonic | architecture and design
design, ilustração, whtvr
supersonic electronic / art
Hideaki Hamada
unnamed pearl
Fubiz™