Education Policy
A Conversation With Bill Gates - Technology. By Jeffrey R.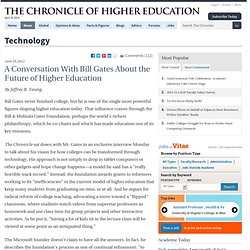 Young Bill Gates never finished college, but he is one of the single most powerful figures shaping higher education today. That influence comes through the Bill & Melinda Gates Foundation, perhaps the world's richest philanthropy, which he co-chairs and which has made education one of its key missions. The Chronicle sat down with Mr. Gates in an exclusive interview Monday to talk about his vision for how colleges can be transformed through technology. Why Is College So Expensive? - To the Point on KCRW. College students and graduates have racked up more than a trillion dollars in student loan debt, as the cost of a higher education is rising fast.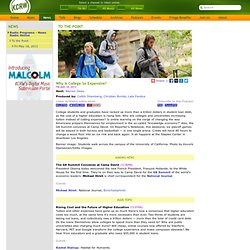 Why are colleges and universities increasing tuition instead of cutting expenses? Is online learning on the verge of changing the way Americans prepare themselves for employment in the so-called "knowledge economy? " What's Driving College Costs Higher? iStockphoto.com Just days before student loan rates are set to double for millions of Americans, President Obama and congressional leaders haven't reached an agreement on legislation to keep those rates at 3.4 percent.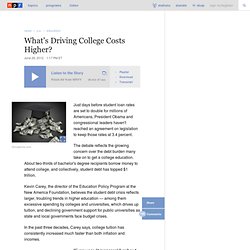 The debate reflects the growing concern over the debt burden many take on to get a college education. The Iron Triangle | Public Agenda. Subscribe TodayRSS Newsfeed Our Newsletter Page Not Found We're sorry but the page you requested could not be found.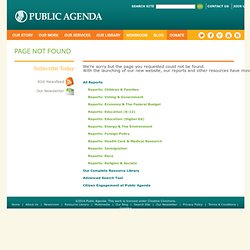 With the launching of our new website, our reports and other resources have moved to new locations. RiDE%2020-4. Reports and Research | National Center for Developmental Education. Resources and External Source Reports Published Research Saxon, D.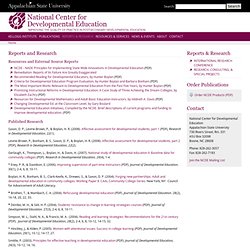 P., Levine-Brown, P., & Boylan, H. R. (2008). Affective assessment for developmental students, part 1 (PDF), Research in Developmental Education, 22(1). On Notice? Obama to Link Aid for Colleges to Affordability. Kevin Carey: A Radical Solution For America's Worsening College Tuition Bubble. Over the last three decades, through good economic times and bad, one of the few constants in American life has been the relentless rise in the price of higher education.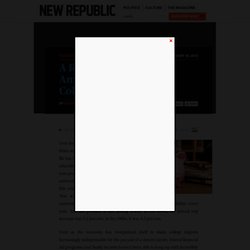 The numbers are stark: According to the non-profit College Board, public four-year universities raised tuition and fees by 8.3 percent this year, more than double the rate of inflation. This was typical: Over the last decade, public university tuition grew by an average of 5.6 percent above inflation every year.
Talks. Essay on challenges for future presidents of community colleges. This is one of a series of articles that looks at pathways to the academic presidency in the U.S.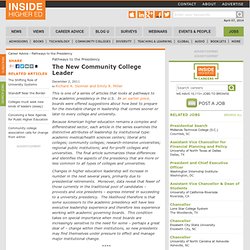 In an earlier piece, boards were offered suggestions about how best to prepare for the inevitable change in leadership that comes sooner or later to every college and university. Because American higher education remains a complex and differentiated sector, each article in the series examines the distinctive attributes of leadership by institutional type: academic medical/health sciences centers; liberal arts colleges; community colleges; research-intensive universities; regional public institutions; and for-profit colleges and universities. The final article summarizes these differences and identifies the aspects of the presidency that are more or less common to all types of colleges and universities.
Changes in higher education leadership will increase in number in the next several years, primarily due to presidential retirements. Education | Higher-ed woes tied to state 'leadership vacuum' Washington politicians have abdicated their leadership role in higher education, leaving the state with a disjointed system that doesn't produce enough bachelor's degrees and forces employers to go out of state — and even out of the country — to find skilled workers.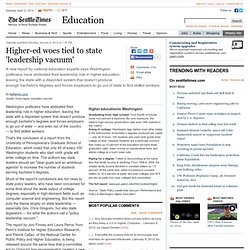 That's the conclusion of a report from the University of Pennsylvania's Graduate School of Education, which noted that only 40 of every 100 Washington students who start ninth grade will enter college on time. The authors say state leaders should set "clear goals and an ambitious agenda" to increase the number of students earning bachelor's degrees. Much of the report's conclusions are not news to state policy leaders, who have been concerned for some time about the weak output of college degrees, especially in high-demand fields such as computer science and engineering. Kaplan CEO's book takes on higher ed's incentive system. Andrew S.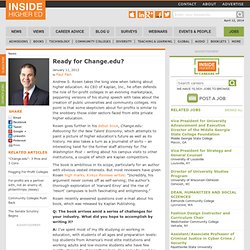 Rosen takes the long view when talking about higher education. As CEO of Kaplan, Inc., he often defends the role of for-profit colleges in an evolving marketplace, peppering versions of his stump speech with tales about the creation of public universities and community colleges. His point is that some skepticism about for-profits is similar to the snobbery those older sectors faced from elite private higher education.
---