Live Streaming
Mashup experiment for the LeWeb online audience. TWiT Live - Netcasts you love, from people you trust. Le Web Main Stage, Ustream.TV: The #1 European Internet event, where 2500 entrepreneurs, leaders, investors, bloggers, journalists will gather together for. Ustream © Search Log in / Sign up With Facebook (faster) Log in or sign up with Facebook See what your friends like and watch, get awesome recommendations Instant login, no passwords.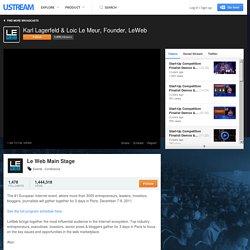 Energy assistance program deadline on Dec. 10. Dec. 08, 2010 @ 04:00 PM HUNTINGTON — The deadline for the Low Income Energy Assistance Program (LIEAP) applications is Friday, Dec. 10.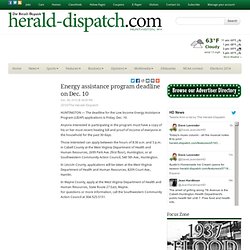 Anyone interested in participating in the program must have a copy of his or her most recent heating bill and proof of income of everyone in the household for the past 30 days. Those interested can apply between the hours of 8:30 a.m. and 5 p.m. in Cabell County at the West Virginia Department of Health and Human Resources, 2699 Park Ave. PayPal Releases Funds to WikiLeaks | Tricia Duryee | eMoney | AllThingsD. PayPal has just released the remaining funds in the account associated with WikiLeaks today, after restricting access to the account last week, according to a PayPal blog post.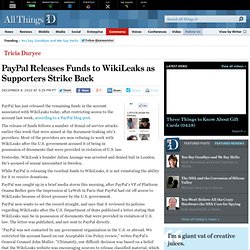 The release of funds follows a number of denial-of-service attacks earlier this week that were aimed at the document-leaking site's providers. Most of the providers are now refusing to work with WikiLeaks after the U.S. government accused it of being in possession of documents that were provided in violation of U.S. law. Yesterday, WikiLeak's founder Julian Assange was arrested and denied bail in London. He's accused of sexual misconduct in Sweden. While PayPal is releasing the residual funds to WikiLeaks, it is not reinstating the ability for it to receive donations. Via eMoney. Why Wikileaks Will Never Be Closed Or Blocked. Last weekend, rather than read stories about the US diplomatic cables that Wikileaks has released, I decided to read them directly myself.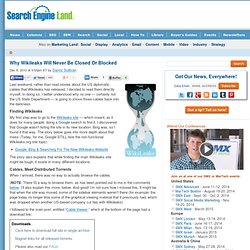 In doing so, I better understood why no one — certainly not the US State Department — is going to shove those cables back into the darkness. Finding Wikileaks My first step was to go to the Wikileaks site — which meant, as it does for many people, doing a Google search to find it. Via Search Engine Land: News About Search Engines & Searc. Klout is broken. Via RAAK | Digital & Social Media Agency London. Twitter Explains Why #WikiLeaks Isn't Trending.
Twitter has finally responded to numerous accusations that it has been purposely keeping #WikiLeaks and related hashtags out of its Trending Topics list.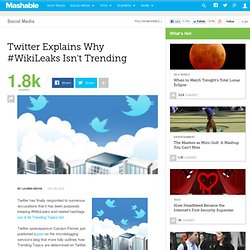 Twitter spokesperson Carolyn Penner just published a post on the microblogging service's blog that more fully outlines how Trending Topics are determined on Twitter. In essence: Twitter favors novelty over popularity. Trending Topics are "designed to help people discover the 'most breaking' breaking news across the world… Captur[ing] the hottest emerging topics, not just what's most popular," Penner writes. "Topics break into the Trends list when the volume of Tweets about that topic at a given moment dramatically increases," she adds. From this explanation, we can infer that the reason the WikiLeaks hasn't trended this week, despite being the most-discussed topic on Twitter at times, is because there hasn't been a dramatic increase in the level of discussion about WikiLeaks compared to previously. Via Mashable!
---