Live Streaming
Mashup experiment for the LeWeb online audience.
The #1 European Internet event, where more than 3000 entrepreneurs, leaders, investors, bloggers, journalists will gather together for 3 days in Paris, December 7-9, 2011. See the full program schedule here. LeWeb brings together the most influential audience in the Internet ecosystem. Top industry entrepreneurs, executives, investors, senior press & bloggers gather for 3 days in Paris to focus on the key issues and opportunities in the web marketplace. Also: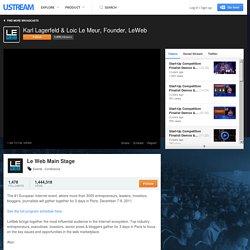 Dec. 08, 2010 @ 04:00 PM HUNTINGTON — The deadline for the Low Income Energy Assistance Program (LIEAP) applications is Friday, Dec. 10. Anyone interested in participating in the program must have a copy of his or her most recent heating bill and proof of income of everyone in the household for the past 30 days. Those interested can apply between the hours of 8:30 a.m. and 5 p.m. in Cabell County at the West Virginia Department of Health and Human Resources, 2699 Park Ave.
Energy assistance program deadline on Dec. 10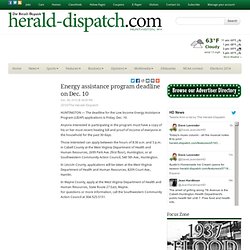 PayPal has just released the remaining funds in the account associated with WikiLeaks today, after restricting access to the account last week, according to a PayPal blog post. The release of funds follows a number of denial-of-service attacks earlier this week that were aimed at the document-leaking site's providers. Most of the providers are now refusing to work with WikiLeaks after the U.S. government accused it of being in possession of documents that were provided in violation of U.S. law. Yesterday, WikiLeak's founder Julian Assange was arrested and denied bail in London. He's accused of sexual misconduct in Sweden. While PayPal is releasing the residual funds to WikiLeaks, it is not reinstating the ability for it to receive donations.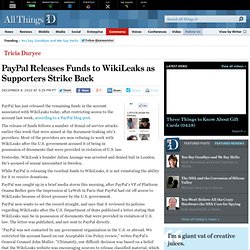 PayPal Releases Funds to WikiLeaks | Tricia Duryee | eMoney | AllThingsD
via eMoney http://emoney.allthingsd.com/20101208/paypal-relea
Last weekend, rather than read stories about the US diplomatic cables that Wikileaks has released, I decided to read them directly myself. In doing so, I better understood why no one — certainly not the US State Department — is going to shove those cables back into the darkness. Finding Wikileaks My first step was to go to the Wikileaks site — which meant, as it does for many people, doing a Google search to find it.
Why Wikileaks Will Never Be Closed Or Blocked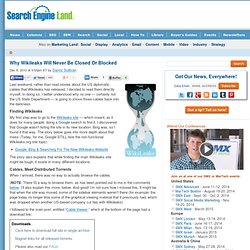 via Search Engine Land: News About Search Engines & Searc
A bit more than a month ago, I asked the question: Can you become influential on Twitter, and get a high Klout Score, merely by Tweeting a lot? To test this, I set up an experiment, which involves four Twitter bots that automatically tweet the output of the Unix fortune command-line application. Fortune randomly outputs mildly humorous quotes, and was often used on Unix to produce a 'welcome message of the day' upon login. The four bots Tweet once every minute, once every five minutes, once every fifteen minutes and once every thirty minutes respectively. They are completely anonymous, have no avatars or custom user profiles set, and do not follow anyone.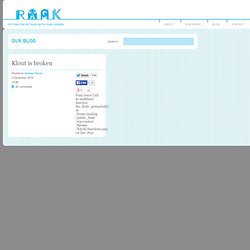 Klout is broken
via RAAK | Digital & Social Media Agency London http://we
Twitter Explains Why #WikiLeaks Isn't Trending
via Mashable! http://mashable.com/2010/12/08/twitter-wikileak