Skin
Get flash to fully experience Pearltrees
These 7 ways I am sharing, are the MOST EFFECTIVE ways that makes those ridiculous scars disappear, no matter what type they are (acne scars, tissue scars etc). Make sure you are NOT allergic to any of the ingredients I am going to mention. 1st Solution: (For dark circles and scars) You Need: 1/2 tsp Turmeric 1 tsp yogurt (at least 10% fat) 4-5 drops Lemon Juice Directions:
SALT LAKE CITY — The world of health and medicine can be confusing to many parents. But Nurse Suzy is here to help clarify some of the issues that are important to you and your family. This week's question: Do you have any easy suggestions for cracked heels?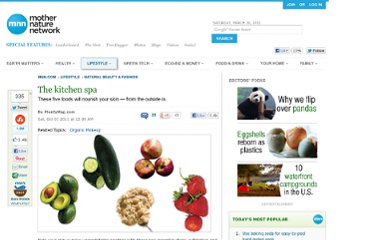 Help your skin survive unpredictable weather with these two essential steps: exfoliation and moisturization. Skin-cell buildup leads to dryness, poor circulation and blemishes. Exfoliation eliminates these dead cells, revealing fresh skin that is better able to absorb moisture.
You know those Biore pore strips you buy at the drugstore for about $12 a pop? Yeah, those . Today I'm going to teach you how to make your own homemade pore strips . Are you here from StumbleUpon ?
Facials are a great way to keep your skin glowing, but they can be pricey. We asked Louisa Macan-Graves, author of Hollywood Beauty Secrets: Remedies to the Rescue , and Elda Argenti, owner of the Plantogen skincare line, for their favorite make-at-home face masks crafted from common household ingredients. For All Skin Types Brighten: Cut a slice of ripe papaya and remove the seeds and pulp (save the pulp for a snack later—it's great for digestion).
There's no reason to be embarrassed -- approximately 90 percent of people carry the herpes simplex virus type 1, which is the culprit behind cold sores. While outbreaks come and go, they tend to crop up when you're stressed, sick, sunburned, or hormonal. Although there's no cure -- the virus simply becomes dormant in the body -- protecting your lips with a broad-spectrum sunscreen can help stem eruptions.
I feel as though I should invest in a regular supply of plain yogurt. It seems to be in everything all-natural-eco-awesome (that isn't vegan, anyway), from face masks to smoothies to a replacement ingredient to create more healthful recipes. When I began hunting for do it yourself face masks, I kept seeing it: oatmeal and yogurt face mask .