Asian / Indian
Chicken Curry with Coconut Milk. Chicken, curry spices, potatoes and coconut milk give this dish an aromatic flavor you'll really enjoy.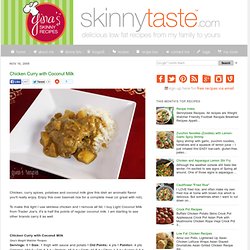 Enjoy this over basmati rice for a complete meal (or great with roti). To make this light I use skinless chicken and I remove all fat. I buy Light Coconut Milk from Trader Joe's, it's is half the points of regular coconut milk. I am starting to see other brands carry it as well. Chicken Curry with Coconut Milk Gina's Weight Watcher RecipesServings: 6 • Size: 1 thigh with sauce and potato • Old Points: 4 pts • Points+: 4 pts Calories: 160.0 • Fat: 6.3 g • Protein: 15.0 g • Carb: 10.5 g • Fiber: 1.3 g • Sugar: 0.3 g Sodium: 63.9 mg without salt.
Asian Grilled Chicken. I love spring!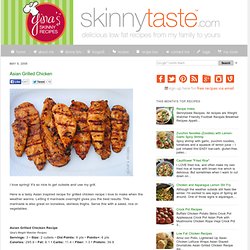 It's so nice to get outside and use my grill. Here is a tasty Asian inspired recipe for grilled chicken recipe I love to make when the weather warms.
---