Share
The law, which follows similar legislation passed elsewhere recently, appears to be a reaction to increasingly vocal efforts by gay rights groups, particularly in St. Petersburg and Moscow, to attract attention to the issue. Vitaly V. Milonov, the law's principal drafter and an outspoken proponent of 's Orthodox Church, who has referred to gay people as "perverts," has accused gay rights activists of waging an aggressive campaign of conversion among Russia's children with the backing of Western governments. "This is a declaration of Russia's moral sovereignty," Mr.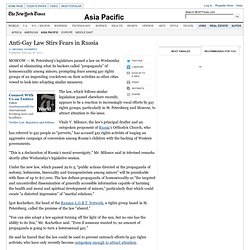 Anti-Gay Law Stirs Fears in Russia
Us Coast Guard/European Pressphoto Agency A $7.8 billion agreement was proposed last week to settle plaintiffs' claims in the BP oil explosion in the Gulf of Mexico in 2010. The announcement of an agreement late Friday by and lawyers representing individuals and businesses hurt by the disaster represented something of a turning of the page, though BP and its drilling partners continue to face legal challenges.
Deepwater Oil Drilling Returns to Gulf and Grows as Blast Fades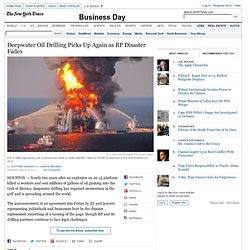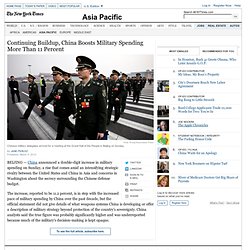 China Increases Military Spending More Than 11 Percent
The increase, reported to be 11.2 percent, is in step with the increased pace of military spending by China over the past decade, but the official statement did not give details of what weapons systems China is developing or offer a description of military strategy beyond protection of the country's sovereignty. China analysts said the true figure was probably significantly higher and was underreported because much of the military's decision-making is kept opaque. Washington has pressed China to be more forthcoming about its military intentions, an openness that the Americans say is necessary to relieve growing unease in a region where the United States maintains important alliances and treaty obligations. President Obama declared in November that American military interests in the Asia-Pacific region would be immune from cuts to the Pentagon budget, a commitment that was interpreted in Beijing as a response to China's growing power.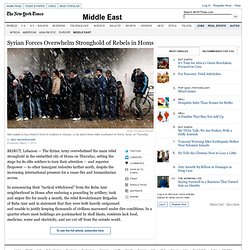 Syrian Rebels Withdrawing From Key Enclave in Homs
Goran Tomasevic/Reuters Men waited to buy bread in front of a bakery in Qusayr, a city about three miles southwest of Homs, Syria, on Thursday. In announcing their "tactical withdrawal" from the Baba Amr neighborhood in Homs after enduring a pounding by artillery, tank and sniper fire for nearly a month, the rebel Revolutionary Brigades of Baba Amr said in statement that they were both heavily outgunned and unable to justify keeping thousands of civilians marooned under dire conditions. In a quarter where most buildings are pockmarked by shell blasts, residents lack food, medicine, water and electricity, and are cut off from the outside world.
European Debt Crisis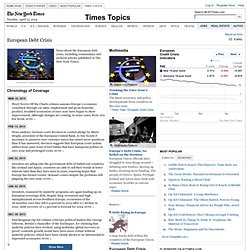 Calculating the Impact of Cyprus's Bailout By LANDON THOMAS Jr The rescue of Los Angeles-based IndyMac Bancorp may provide lessons for what the losses required by the Bank of Cyprus bailout will mean. April 1, 2013, Monday As Banks in Cyprus Falter, Other Tax Havens Step In
Venezuela - Fuel Still Flows to Syria
The head of the state-run oil company, Petróleos de Venezuela, has said that the company will continue to ship diesel fuel to despite efforts by the United States and other countries to isolate the government of President of Syria. "If they need diesel and we can supply it there is no reason not to do it," Rafael Ramírez, the oil company president, who is also the minister of oil and mining, said on Tuesday. He confirmed that company had sent two tankers, each containing 300,000 barrels of diesel, to Syria. The State Department said it would continue to work with other countries to increase pressure on Mr. Assad to cease his crackdown on political opponents and to step down. President Hugo Chávez of has long sided with Middle Eastern countries like Syria and Iran in defiance of Western sanctions.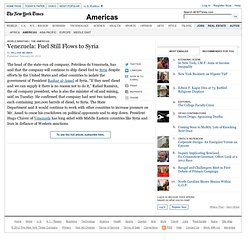 Other analysts said the agreement allowed Mr. Kim to demonstrate his command and to use his early months in power to improve people's lives after years of food shortages and a devastating famine. "It helps him show to his people that he is a leader who can deal with the Americans and bring back some practical benefits, namely the food aid," said Kim Yong-hyun, an analyst at Dongguk University in Seoul. As part of the agreement, the United States said it would send 240,000 metric tons (about 265,000 tons) of food, though it limited the aid to nutritional supplements, rather than the rice and grains that, as two administration officials said, has in previous instances been diverted by the government or the military, or even sold abroad. The aid is expected to be delivered in monthly shipments of 20,000 metric tons over the next year.
North Korea Agrees to Suspend Its Nuclear Program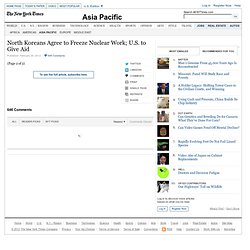 Dogging Mitt Romney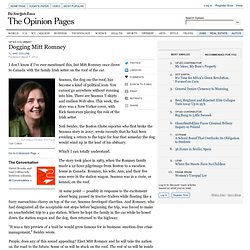 Seamus, the dog-on-the-roof, has become a kind of political icon. You cannot go anywhere without running into him. There are Seamus T-shirts and endless Web sites. This week, the story was a New Yorker cover, with Rick Santorum playing the role of the Irish setter.