Programming
You can now download Visual Studio 2010 projects that contain all the samples targeting .NET Framework 4.The samples environment for Microsoft Chart Controls for .NET Framework contains over 200 samples for both ASP.NET and Windows Forms. The samples cover every major feature in Chart Controls for .NET Framework. They enable you to see the Chart controls in action as well as use the code as templates for your own web and windows applications.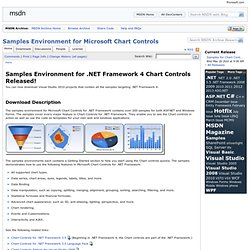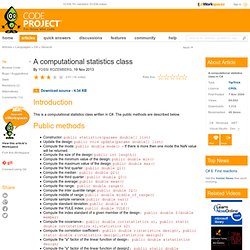 A computational statistics class
Download source - 4.34 KB Introduction This is a computational statistics class written in C#. The public methods are described below.
++ IT 지식관리 채널 프리렉 ++
데브피아 :: 개발자 천국을 꿈꾸는 국내 최대의 SW 포탈
Visual Studio 2010 공식 팀 블로그 @vsts2010 :: Welcome to Dynamic C#(1) - 첫만남.