Sociology
The Parts of Speech
Traditional grammar classifies words based on eight parts of speech: the verb, the noun, the pronoun, the adjective, the adverb, the preposition, the conjunction, and the interjection. Each part of speech explains not what the word is, but how the word is used. In fact, the same word can be a noun in one sentence and a verb or adjective in the next.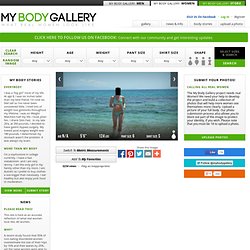 Welcome - My Body Gallery - What Real Women Look Like
My Body StoriesHealthy? I'm in the 26-32 age range and 5'6" height or 168cm. I've never had major issues with my weight, the most I've weighed was 150lbs. I'm active and like to stay that way because my eating habits were once very unhealthy and making me sick.
Site Temporarily Unavailable
Page Title
Hungry Planet:What the World Eats, Part III - Photo Essays
Hungry Planet: What the World Eats, Part II - Photo Essays
What the World Eats, Part I - Photo Essays
by john, May 15, 2009, at 01:20 pm I came across a series of photos that reminded me of Menzel and D'Aluisio's book, Hungry Planet: What the World Eats, that looked at how globalization, migration and rising affluence affect the diets of communities around the globe. See also photo galleries 1, 2, and 3 in Time Magazine. From photographer, Mark Menjivar, You Are What You Eat is a series of photographs looking at the interiors of refrigerators in homes across the United States. Nothing was added or taken away. Here are a few of the 20 or so images in the gallery.
You Are What You Eat