Marketing
Product Launch 101. This is the story of what happens in a typical product launch.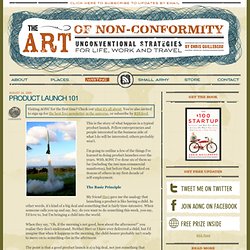 Fellow entrepreneurs and people interested in the business side of what I do will be interested; others probably won't. I'm going to outline a few of the things I've learned in doing product launches over the years. With AONC I've done six of them so far (including the two non-commercial manifestos), but before that, I worked on dozens of others in my first decade of self-employment.
The Basic Principle. The Case for the $100 Business. I'm working on this concept for a longer project, but for now, here's the basic principle: Just as you don't need someone else's permission to be happy, you also don't need a lot of money to start a business.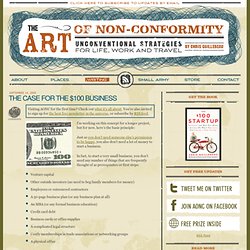 In fact, to start a very small business, you don't need any number of things that are frequently thought of as prerequisites or first steps: Venture capitalOther outside investors (no need to beg family members for money)Employees or outsourced contractorsA 50-page business plan (or any business plan at all)An MBA (or any formal business education)Credit card debtBusiness cards or office suppliesA complicated legal structure Costly memberships in trade associations or networking groupsA physical office. Frequently Asked Questions | Institute For Humane Studies. What kind of applicants is IHS looking for?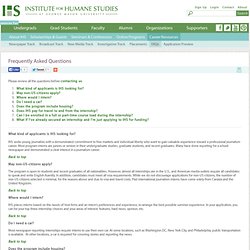 IHS seeks young journalists with a demonstrated commitment to free markets and individual liberty who want to gain valuable experience toward a professional journalism career. Most program interns are juniors or seniors in their undergraduate studies, graduate students, and recent graduates. Many have done reporting for a school newspaper and demonstrated a clear interest in a journalism career. Back to top. A 12-Step Guide to Fostering Your Creativity. One skill that every designer must learn — and quickly — is how to be creative on-demand.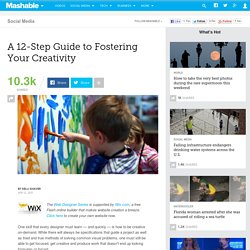 While there will always be specifications that guide a project as well as tried and true methods of solving common visual problems, one must still be able to get focused, get creative and produce work that doesn't end up looking formulaic or forced. Unfortunately, though, not every project will be tantalizing and fun, and there will be days when you simply don't want to go to work, no matter how much you love your job. How do you keep the creative spark going when you're not feeling particularly inspired? We have 12 simple tips you can use to foster a more creative mindset. While most of these tips are for the freelance designer who works independently, anyone in a creative industry should be able to relate and gain insight from them.
Page 3 - Eight worst search optimization techniques. Some webmasters and SEO companies will use any means they can think of to get a high rank in search engine listings.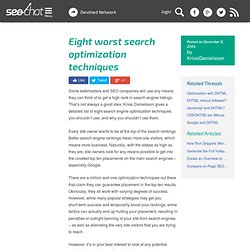 That's not always a good idea. Krissi Danielsson gives a detailed list of eight search engine optimization techniques you shouldn't use, and why you shouldn't use them. Every site owner wants to be at the top of the search rankings. Better search engine rankings mean more site visitors, which means more business. The Fundamentals & Best Practices of Logo Design. The Web Development Series is supported by Rackspace, the better way to do hosting.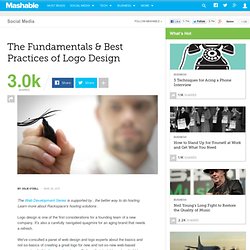 Learn more about Rackspace's hosting solutions here. Logo design is one of the first considerations for a founding team of a new company. It's also a carefully navigated quagmire for an aging brand that needs a refresh. We've consulted a panel of web design and logo experts about the basics and not-so-basics of creating a great logo for new and not-so-new web-based companies. How Companies Can Create a Brand Identity With Text Alone. The Web Development Series is supported by Rackspace, the better way to do hosting.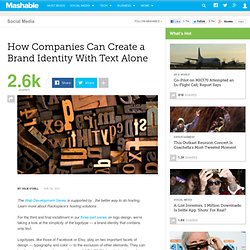 Learn more about Rackspace's hosting solutions here. For the third and final installment in our three-part series on logo design, we're taking a look at the simplicity of the logotype — a brand identity that contains only text. Logotypes, like those of Facebook or Etsy, play on two important facets of design — typography and color — to the exclusion of other elements. They can be elegant and even clever, or they can fall flat.
Social Minefield: How To Self-Promote Without Being A Jerk. Social media take wing with travellers. For business travellers, Facebook and Twitter are much more than places to share family photos and sneezing-puppy videos.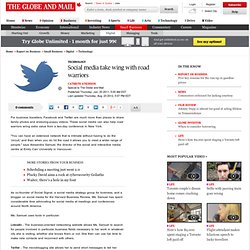 These social media can also help road warriors wring extra value from a two-day conference in New York. "You can have an extensive network that is intimate without having to do the 'circuit,' and then when you do hit the road it allows you to meet a wider range of people," says Alexandra Samuel, the director of the social and interactive media centre at Emily Carr University in Vancouver. Guide to my Kenzo Invite.
While we were outside at the Guapo Magazine party tonight, a pair of Irish men mentioned how not only will they be at Kenzo, but so will Diddy.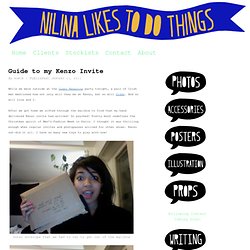 And so will Lina and I. After we got home we sifted through the mailbox to find that my hand delivered Kenzo invite had arrived! So psyched! Pretty much redefines the Christmas spirit of Men's Fashion Week in Paris. Killer Flagship Content – Free Ebook To Download — Chris Garrett on New Media. Why People Hate Marketers. Hey everyone, I'm reporting live from Rarotonga in the South Pacific.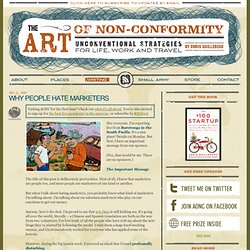 It's a nice place! Details on Monday. But first, I have an important message from our sponsor. (Yes, that would be me.
---