Blogging
Ten tools to use for social media measurement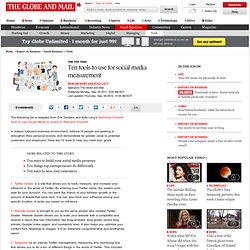 The following list is adapted from Erik Deckers and Kyle Lacy's Branding Yourself: How to Use Social Media to Invent or Reinvent Yourself. In today's turbulent business environment, millions of people are seeking to strengthen their personal brands, and demonstrate far greater value to potential customers and employers. Here are 10 tools to help you meet your goals: 1. Twitter Grader is a site that allows you to track, measure, and increase your influence in the world of Twitter. By entering your Twitter name, the system pulls data for your account.
by Guest Author This is a guest post by Mandy Barrington. If you want to guest post on this blog, check out the guidelines here. Adding visual interest in the form of images is a widely-used method for attracting readers to blog articles.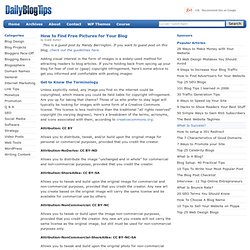 How to Find Free Pictures for Your Blog
Build a Better Blog in 31 Days - Guaranteed
8 Essential Web Typography Resources
The Web Development Series is supported by Rackspace, the better way to do hosting. Learn more about Rackspace's hosting solutions here. Over the last eighteen months, the world of web fonts and web typography has absolutely exploded. Modern browsers — on the desktop and on mobile devices — are embracing the WOFF standard, type foundries are adopting web type en masse, and libraries like Google Web Fonts are making it easier for designers and developers of all stripes to use web type in their projects.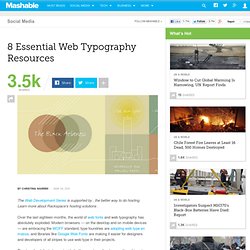 How Bloggers Make Money Blogging
Product Launch 101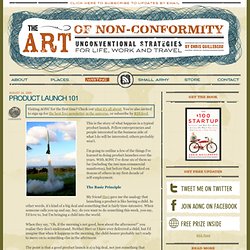 This is the story of what happens in a typical product launch. Fellow entrepreneurs and people interested in the business side of what I do will be interested; others probably won't. I'm going to outline a few of the things I've learned in doing product launches over the years. With AONC I've done six of them so far (including the two non-commercial manifestos), but before that, I worked on dozens of others in my first decade of self-employment.
10 Biggest Predictions for the Future of Book Publishing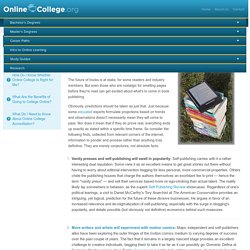 By Nadia Jones The future of books is at stake, for some readers and industry members. But even those who are nostalgic for smelling pages before they're read can get excited about what's to come in book publishing. Obviously, predictions should be taken as just that. Just because some educated experts formulate projections based on trends and observations doesn't necessarily mean they will come to pass. Nor does it mean that if they do prove real, everything ends up exactly as stated within a specific time frame.
Enough has been said about Twitter being a great tool for local branding. You can search followers in your geographical area, connect with them and establish a great local brand. There are thousands of success stories where Twitter has worked wonderfully well as a tool for establishing a brand locally. But creating a global brand is an altogether different ballgame.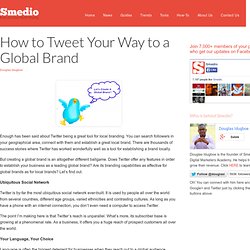 How to Tweet Your Way to a Global Brand | Smedio | The New Media and Social Web Guide for Business and Marketers
A while back, Sean Platt and I wrote and published a book called How to Build A Blog, exclusively on Kindle, laying out an overview of my entire online audience-building framework. Well, as a special perk for our community members, we've created a special edition print version, and a poster-sized infographic that summarizes the whole thing. And if you want it, it's yours; no charge, no nothing. All you've got to do is pay a few bucks to cover the shipping, and we'll mail the book and the poster straight to your door (and you can't get either of these things *anywhere* else!)
Firepole Marketing – The definitive marketing program for small businesses, entrepreneurs, and non-marketers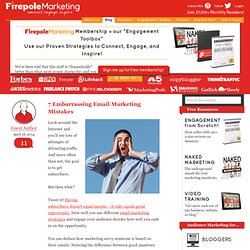 The Keys to Success... Are In Your Pocket! | Shake Off the Grind
Should You Even Be Blogging?!
5 Techniques to Create Raving Loyal Fans
Literary Journalism — Program Information — The Banff Centre
Program dates: July 7, 2014 - August 2, 2014 Application deadline: March 15, 2014 Off-site manuscript development: May 5, 2014 - June 27, 2014 'What works of literature might exist if more writers had a cabin of one's own, surrounded by a community of artists to share, inspire, and to learn from."—Craille Maguire Gillies, program participant About Literary Journalism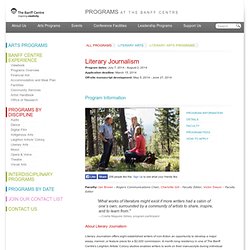 27 Reasons Why Your Blog Doesn't Deserve to Exist