Kkkatie
Katie
esoteric interests
Aden Camera.
20 Quick Street Photography Tips. A Post By: Darren Rowse I was going through an old 'Digital Photographer' magazine this afternoon and came across a good Top 20 list of tips for those wanting to get into Street Photography.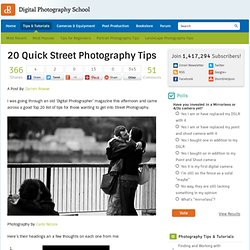 Photography by Carlo Nicora Here's their headings an a few thoughts on each one from me:
Shopping. TED. Globalization. Health. Pretty and story research. Money matters. Entrepreneur. Travel. Marketing. Intl dev jobs. Funblogs. Photography. Pearltrees videos. Help.
---