Eating, Diet Exercise
Mark's Daily Apple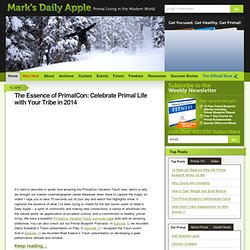 As I mentioned back in my New Year's post , Primal Blueprint Publishing has launched, and my team and I are on a mission to change lives, one book at a time! Last month, we released Mira and Jayson Calton's Rich Food, Poor Food , and early reader feedback has been incredibly positive. With ten more books either nearing release or in development and with many of you emailing me asking for details, I thought I'd take a moment to share with you what I have in the pipeline. Whether you're just starting or are a Primal veteran, I think there's something here for everyone.
Michael Pollan: Food Rules for Healthy People and Planet
Bio Michael Pollan Michael Pollan is the author of The Omnivore's Dilemma: A Natural History of Four Meals , a New York Times bestseller.