Eating, Diet Exercise
Mark's Daily Apple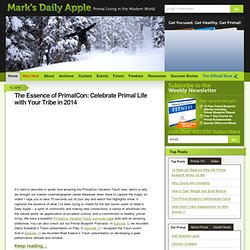 It's Friday, everyone! And that means another Primal Blueprint Real Life Story from a Mark's Daily Apple reader. If you have your own success story and would like to share it with me and the Mark's Daily Apple community please contact me here. I'll continue to publish these each Friday as long as they keep coming in.
Robb Wolf | The Paleo Solution book and podcast | Paleolithic nutrition, intermittent fasting, and fitness
Michael Pollan: Food Rules for Healthy People and Planet
Bio Michael Pollan Michael Pollan is the author of The Omnivore's Dilemma: A Natural History of Four Meals, a New York Times bestseller.