Satire
Hello! | TSTO
In 1873, the British scholar and traveller Professor Basil Hall Chamberlain visited Japan. He recorded his views of the nation's music in his subsequent book, Japanese Things: Being Notes On Various Subjects Connected With Japan. "Music," he wrote, "if that beautiful word must be allowed to fall so low as to denote the strummings and squealings of Orientals, is supposed to have existed in Japan since mythological times ... but (its) effect is not to soothe, but to exasperate beyond all endurance the European breast."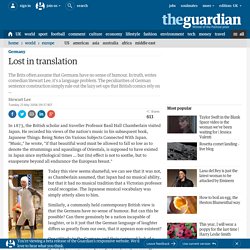 m.guardian.co.uk
MC Hammer vs Vanilla Ice
we're not a big hit with the Latinos, demographic data suggests.