Nanotechnology
Sci-Tech : Graphene: a novel material with myriad uses
After the discovery of one form of carbon — fullerenes — was awarded the Nobel Prize in Chemistry in 1996, this year's Nobel Prize for Physics was awarded to Andre K. Geim and Konstantin S. Novoselov, both at the University of Manchester, U.K., for succeeding in producing, isolating, identifying and characterizing another form of carbon — graphene. Anyone who has used an ordinary pencil has probably produced graphene-like structures, but without knowing it. A pencil contains graphite, and when it is moved on a piece of paper, the graphite is cleaved into thin layers that end up on the paper and make up the text or drawing that we are trying to produce.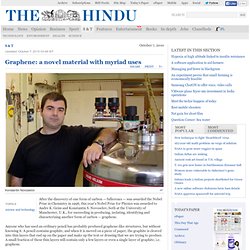 A couple of stories about interesting, new materials caught my eye and I thought I might pass them along. The lightest solid In the picture above a 2.5kg brick is supported by 2gm worth of aerogel .
Materials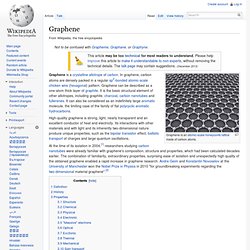 Graphene is a 2-dimensional, crystaline allotrope of carbon.
(PhysOrg.com) -- By "unzipping" carbon nanotubes, researchers have shown how to make flat graphene ribbons.
Unzipping Carbon Nanotubes Can Make Graphene Ribbons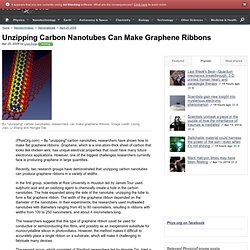 Graphene Outperforms Carbon Nanotubes for Creating Stronger, Mor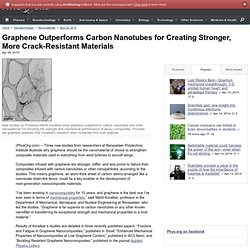 (PhysOrg.com) -- Three new studies from researchers at Rensselaer Polytechnic Institute illustrate why graphene should be the nanomaterial of choice to strengthen composite materials used in everything from wind turbines to aircraft wings. Composites infused with graphene are stronger, stiffer, and less prone to failure than composites infused with carbon nanotubes or other nanoparticles, according to the studies.