Utilities Applications
Welcome to the Eraser Home Page! Eraser is an advanced security tool for Windows which allows you to completely remove sensitive data from your hard drive by overwriting it several times with carefully selected patterns. Eraser is currently supported under Windows XP (with Service Pack 3), Windows Server 2003 (with Service Pack 2), Windows Vista, Windows Server 2008, Windows 7 and Windows Server 2008 R2. Eraser is Free software and its source code is released under GNU General Public License. Most people have some data that they would rather not share with others – passwords, personal information, classified documents from work, financial records, self-written poems, the list continues. Perhaps you have saved some of this information on your computer where it is conveniently at your reach, but when the time comes to remove the data from your hard disk, things get a bit more complicated and maintaining your privacy is not as simple as it may have seemed at first.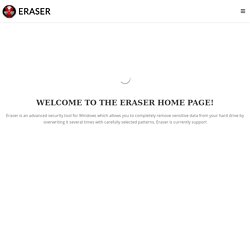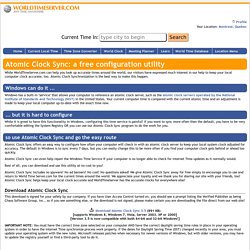 Atomic Clock Sync Information from worldtimeserver.com
While WorldTimeServer.com can help you look up accurate times around the world, our visitors have expressed much interest in our help to keep your local computer clock accurate, too. Atomic Clock Synchronization is the best way to make this happen. Windows can do it ... Windows has a built-in "service" that allows your computer to reference an atomic clock server, such as the atomic clock servers operated by the National Institute of Standards and Technology (NIST) in the United States.
(Dagbladet): Programvare til PC og Mac kan være dyrt, men det finnes heldigvis gratisalternativer for de aller fleste oppgavene du vil utføre, om det er å brenne en CD, redigere bilder eller beskytte PCen mot virus og hackerangrep. Mange av gratisvariantene er basert på åpen kildekode slik at alle som vil, kan være med på å videreutvikle disse. Noen selskaper slipper også forenklede gratisversjoner av applikasjoner de vanligvis tar betalt for.
Her er 35 gratisprogrammer du ikke kan greie deg uten - tema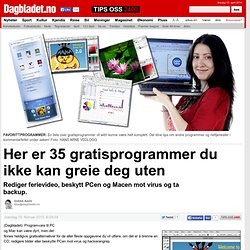 The Best Free Software (2007) - My Favorite Free Programs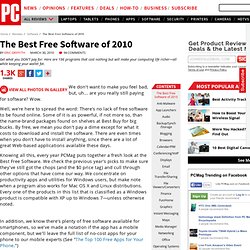 Get what you DON'T pay for: Here are 196 programs that cost nothing but will make your computing life richer—all while keeping your wallet fat. We don't want to make you feel bad, but, uh... are you really still paying for software? Wow.