Web Design Technologies
Global Digital Works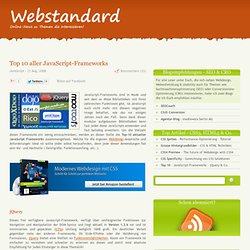 - Top 10 aller JavaScript-Frameworks
JavaScript - 21 Aug, 2008 JavaScript-Frameworks sind in Mode und seit dem es diese Bibliotheken mit ihren zahlreichen Funktionen gibt, ist JavaScript auch nicht mehr mit diesem negativen Image behaftet, wie das vor einigen Jahren noch der Fall. Denn dank dieser modular aufgebauten Bibliotheken kann fast jeder diese JavaScripts anwenden und fast beliebig erweitern.
- Webstandards - The Power of JavaScript (jQuery) and CSS
JavaScript - 31 Aug, 2009 Ein Webstandard kommt selten allein und Anwendungen deren Beschreibung mit dem Schlagwort "Web 2.0" einher gehen, schon mal gar nicht. Denn kaum eine Anwendung die dieser "Kategorie" zuzuordnen ist, kommt ohne eines der bekannten und auf dem Webstandard JavaScript basierenden Frameworks aus. Besonderer Beliebheit erfreut sich hier insbesondere das von John Resig entwickelte jQuery.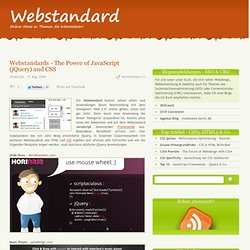 It must have been with the greatest sense of irony when a pair of hackers broke into MySQL.com over the weekend using an SQL injection attack. For those who are not familiar with the term, an SQL injection is a phrase used to denote the execution of unauthorized SQL database commands--usually by exploiting improperly or insecurely designed web applications. In this instance, SearchSecurity reported that the hackers used a blind SQL injection which meant that the hackers figured out the pertinent database structure by a process of trial-and-error.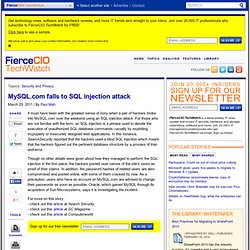 MySQL.com falls to SQL injection attack
12 Places to Use QR Codes for Marketing
How to Style Each WordPress Post Differently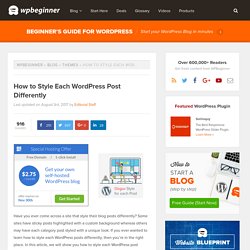 Have you ever came across a site that style their posts differently? Some sites have different sticky posts highlighted whereas others have each category post styled with a different color, or some may even have a totally unique outlook altogether. Well, that is exactly what we are going to cover in this article. We will share how you can style different WordPress posts in different ways.
Web design, Internet Marketing News and Tips | tipsandtricksworld.com
Convert FBML to iFrames on Facebook Fan Pages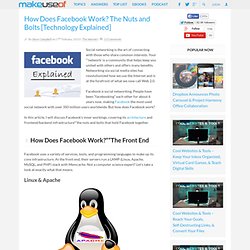 Facebook is social networking. People have been "facebooking" each other for about 6 years now, making Facebook the most used social network with over 350 million users worldwide. But how does Facebook work? In this article, I will discuss Facebook's inner workings, covering its architecture and frontend/backend infrastructure""the nuts and bolts that hold Facebook together. How Does Facebook Work?""The Front End
How Does Facebook Work? The Nuts and Bolts [Technology Explained]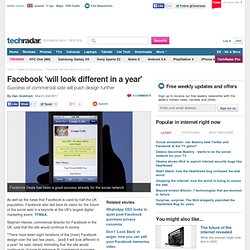 Facebook 'will look different in a year'
As well as the news that Facebook is used by half the UK population, Facebook also laid bare its vision for the future of the social web in a keynote at the UK's largest digital marketing event, TFM&A. Stephen Haines, commercial director for Facebook in the UK, said that the site would continue to evolve. "There have been eight iterations of the [main] Facebook design over the last few years... [and] it will look different in a year" he said, clearly intimating that the site would continue to change to enhance its commercial succcess. The site has never been slow to change fundamentals of its design and approach, most recently with the redesign of the Like button.
Drawing graphical curves within the browser has never been easy. Until recently, if you wanted a smooth chart, you either had to generate an image or create an SVG on the server. Creating a curve on the fly required ninja JavaScript skills, a mathematics degree and immense patience. The canvas element has changed everything.
How to Draw Quadratic Curves on an HTML5 Canvas » SitePoint Blogs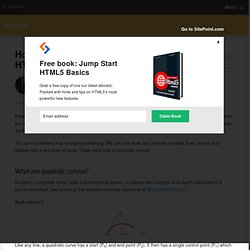 This tutorial will show you how to turn unordered list (UL) into an fancy social bookmarking sharing box. You will see how to style such box, how to add interactivity, and how to create jQuery plugin that will turn any UL into sharing box. Download source View demo The idea is to have all of the buttons shown inline and partially hidden. When user hovers over a button it slides to the right and become visible. Styling unordered list
Create fancy share box with CSS and jQuery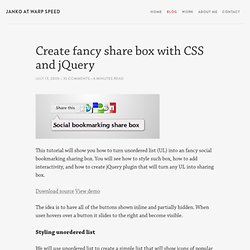 CSS-Transitions - Fliessend animierte Übergänge wie Slide-Effekte bei Webseiten-Elementen wie bspw. einem Menü zu erzeugen, wurde bisher meisten von kleinen Plugins basierend auf einem JavaScript-Framework wie jQuery umgesetzt. Die CSS3-Eigenschaft Transition ermöglicht ein solches "Bewegungsmuster", ebenso wie die hier kürzlich vorgestellte CSS3-Eigenschaft Animation, nur ohne JavaScript. Das heißt, das bspw. "Slide-Effekte" ausschließlich via CSS umgesetzt werden können. Im folgenden kleinen Tutorial wird daher beschrieben wie unter der Verwendung von Border-Radius, Gradient ( Farbverlauf via CSS ) und Transtion, dieser Slide-Effekt in wenigen Schritten ohne JavaScript und ohne Grafiken, ausschließlich mit CSS(3) realisiert werden kann.
- CSS3 Transition Tutorial - Menü mit Slide-Effekt im Apple-Style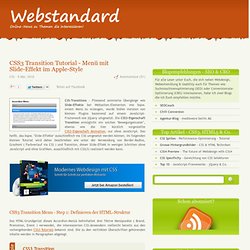 - Creative Image-Galleries by jQuery
JavaScript - 16 Jul, 2009 Die Phase in der sich Besucher von Webseiten entscheiden, auch nach der ersten Wahrnehmung der Webseite weiterhin auf dieser zu verweilen oder bspw. den Kauf eines Produktes erwägt, spielt die Emotion die beim Besucher geweckt wird den entscheidenden Faktor. Daraus resultierende Fragen beziehen sich dann darauf, ob diese Seite dem Besucher einen Mehrwert bietet.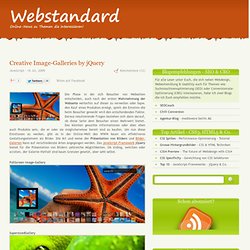 CSS3-Tutorial - Inspiriert von dem hier im Webstandard-Blog kürzlich vorgestellten CSS-Tutorial "The hidden power of border-radius" und der vielerorts ausgetragenen Diskussionen zum Thema Progressive Enhancement im Bereich Webdesign bezüglich vorhandener Webstandards, ist das folgende kleine aber hoffentlich für den ein oder anderen Leser inspirierende CSS3-Tutorial mit Hauptaugenmerk auf der CSS3 Eigenschaft Border-Radius und den damit durchaus vorhandenen Gestaltungsmöglichkeiten entstanden. Keine Tricks, keine Zauberei und vor allem keinerlei Grafiken (!), lediglich ein paar übersichtliche Zeilen CSS. Aber seht selbst!
- CSS3 Tutorial - Website-Navigation - Border-Radius
Windows 7 Fenster mit CSS3 & jQuery - Du findest das Interfacedesign von Windows 7 ansehnlich und interessierst dich für CSS3? Dann bist du hier genau richtig. Denn im weiteren Verlauf wird in diesem Tutorial-2-Teilers ein Fenster aus Windows 7 mit Hilfe von CSS3 und jQuery UI erstellt. Im ersten Teil dieses Tutorials geht es hierbei um das Stylen des Fensters, entsprechend den "Interfacedesign-Vorgaben" von Windows 7.
- Windows 7 Fenster mit CSS3 und jQuery - Tutorial Teil 1
5 Pitfalls to Avoid for New Web Designers
New web designers often find themselves in a common scenario: fresh out of college or just barely starting your career... but unlike other careers where there are defined training programs to show you the ropes, you end up wandering around the internet, hoping to pick up enough experience to land a job. Today, I am going to discuss a few areas where rookie web designers can drop the frustration and begin making high quality web sites faster. Pitfall 1. Don't Try To Re-Invent Layout A very common theme amongst beginners is trying to "re-invent the wheel" when it comes to layout.
Just what the world needs, another jQuery slider. YAWN. I know, check this one out though, it's got lots of cool features. Here on CSS-Tricks, I've created a number of different sliders. Three, in fact.
Make pretty graphs with javascript, using jQuery 1x Dog 1.3x
TufteGraph: beautiful charts with jQuery
horinaja for scriptaculous or jQuery
Making an infinite JQuery carousel
Disabled labels and the Trilemma plugin (Ask the CSS Guy)
Kwicks for jQuery and an awesome horizontal animated menu
Design And Develop A Complete Website (Part 2)
Create an amazing music player using mouse gestures & hotkeys in jQuery
- Top Illustrator Tutorials
3D Banner FX
Mastering OSMF – Part 1: Working with the Flash Platform