Vegetarian
How to Make Your Own Sun-Dried Tomatoes From Your Garden - easy and illustrated!
This month's notes: March 2013: This winter has been very mild, so expect an early Spring. Easter Egg hunts at farms and community churchs are the first activities, followed soon by strawberry picking. Click here for strawberry facts and picking tips , and this page for easy strawberry jam making directions . See this page for hundreds of easy canning and freezing instructions/recipes , canning equipment guide !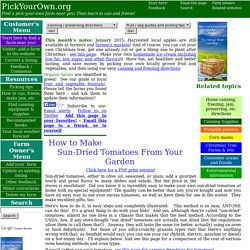 During the past few weeks, I've been a mean cooking machine. From the amazing cake mix cookies to the incredibly popular Chicken Fajita Tacos , I've been experimenting in the kitchen and then sharing with all of you. If you've been visiting often, you know I'm not a natural in the kitchen.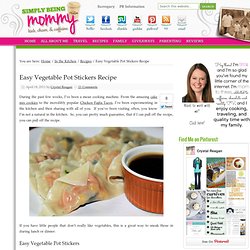 Easy Vegetable Pot Stickers Recipe
Soft Taco Filling: Stewed Mushrooms with Onions and Garlic Hongos Guisados Yield: about 1 1/2 cups This side dish can be made into a substantial taco filling as well. 12 ounces fresh mushrooms, washed and chopped into 1/2 -inch pieces 1/2 medium onion, diced Fresh hot green chiles to taste (roughly 2 chiles serranos or one chile jalapeno), stemmed, seeded and finely minced 2/3 cup any poultry broth or water 1/2 small lime, juiced 1 tablespoon lard , bacon drippings or fat rendered from chorizo 1 ripe, large tomato, roasted or boiled, cored, peeled and roughly chopped OR 3/4 of a 15-ounce can tomatoes, drained and roughly chopped 2 cloves garlic, peeled and roughly chopped 1 1/2 tablespoons chopped epazote (optional) Salt, about 1/2 teaspoon (depending on the saltiness of the broth)
Stewed Mushrooms with Onions and Garlic - Rick Bayless recipe