Cupcakes
Atelier d'été – Cupcakes tout tomate & Îles flottantes au concombre et au chèvre. La semaine dernière, j'ai eu la chance d'être invitée par Tomates & Concombres de France à un atelier de cuisine animé par la pétillante Louise Denisot.
Nous avons concocté les recettes qu'elle avait créé pour l'occasion en compagnie de plein de bloggeurs que j'adore (Pascale Weeks, Sandrine, Requia, Audrey, Dorian…). Tomates et concombres gorgés de soleil et recettes bien fraîches, tout ce que j'aime en été ! Nous avons donc préparé des cupcakes tout tomates délicieux et des îles flottantes au concombre et au chèvre très rafraichissantes. J'avais organisé un petit brunch sur ma terrasse samedi, j'avais tellement adoré les cupcakes à la tomate de Louise que je les ai refaits pour l'occasion en mini cette fois. J'avais prévu un autre message pour aujourd'hui mais mes copines m'ont tellement réclamé la recette que je n'ai pas trop eu le choix… Merci à Louise Denisot et à l'équipe Tomates & Concombres de France. . Cupcakes. Chocolate Chip Cookie Dough Truffles.
Chocolate Chip Cookie Dough Truffles I've never liked chocolate chip cookies.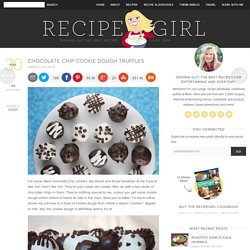 Go ahead and throw tomatoes at me if you'd like, but I don't like 'em. They're just a plain old cookie, after all, with a few studs of chocolate chips in them. Margarita Cupcakes & Masshole Mommy - StumbleUpon. Hey, there's wrong with a little booze in your cupcakes every now and then, right?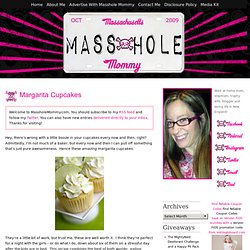 Admittedly, I'm not much of a baker, but every now and then I can pull off something that's just pure awesomeness. Hence these amazing margarita cupcakes. They're a little bit of work, but trust me, these are well worth it. I think they're perfect for a night with the girls – or do what I do, down about six of them on a stressful day after the kids are in bed. This recipe combines the best of both worlds: eating sweets and booze. Apple Shaped Cupcakes | Make and Takes - StumbleUpon. It's September, so apples are on the brain, can you tell?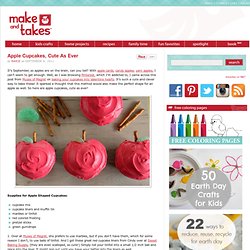 With apple cards, candy apples, yarn apples, I can't seem to get enough. Well, as I was browsing Pinterest, which I'm addicted to, I came across this post from Muses of Megret on baking your cupcakes into Valentine hearts. It's such a cute and clever way to bake these! It sparked a thought that this method would also make the perfect shape for an apple as well. So here are apple cupcakes, cute as ever! Hi Hat Cupcakes. I did it.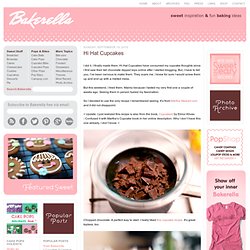 I finally made them. Hi Hat Cupcakes have consumed my cupcake thoughts since I first saw their tall chocolate dipped tops online after I started blogging. But, I have to tell you, I've been nervous to make them. They scare me. I knew for sure I would screw them up and end up with a melted mess. Nutella Cupcakes with Nutella Buttercream. It's a Nutella nation lately.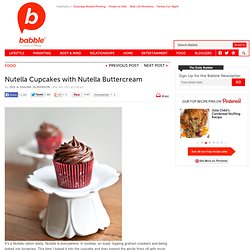 Nutella is everywhere: in cookies, on toast, topping graham crackers and being baked into brownies. This time I baked it into the cupcake and then topped the whole thing off with more chocolate and hazelnut spread. Take it a step further and pipe some unaltered Nutella straight into the center while the cupcakes are still warm before frosting. You'll have the ultimate Nutella cupcake surprise.Nutella Cupcakes with Nutella Buttercream and a Nutella Middle. Dirty Girl Scout Cupcakes. You will need the following ingredients: Mocha Cupcakes 1 cup extra strong coffee 1 cup unsalted butter 3/4 cup unsweetened cocoa powder 2 cups all purpose flour 2 cups sugar 1 1/2 teaspoons baking soda 3/4 teaspoon salt 2 large eggs 2/3 cup sour cream Mint Chocolate Filling 8 ounces semi-sweet chocolate chips 2/3 cup heavy cream 1 teaspoon mint extract Irish Cream Frosting 8 cups confectioners sugar 1 stick unsalted butter & 8 oz cream cheese at room temperature 6 tablespoons Irish Cream.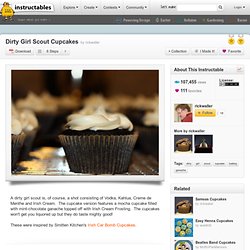 Chocolate Cupcakes with Flaming Strawberries. Call me easily amused, but these little torch-topped cupcakes delight me.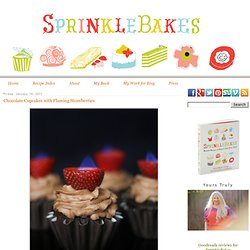 Besides being a cute novelty item for a party, I think they would add a little drama to the end of a romantic meal. I've been looking for something different to serve for Valentine's dessert, and this is definitely different. The strawberries are hollowed out and filled with a bit of liquor, then ignited with a match. Cupcake Recipes - Easy Dessert Recipes at WomansDay.com. Cupcakes Three Ways Recipe. 8 tablespoon(s) (1 stick) unsalted butter, room temperature, plus more for pan 1 3/4 cup(s) all-purpose flour (spooned and leveled), plus more for pan 2 teaspoon(s) baking powder 1/2 teaspoon(s) salt 3/4 cup(s) sugar 2 large eggs, room temperature 1 teaspoon(s) pure vanilla extract 1/2 cup(s) whole milk Vanilla, raspberry, or chocolate buttercream Preheat oven to 350 degrees.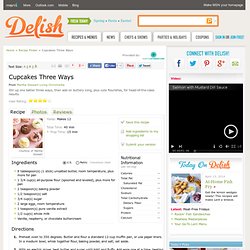 Butter and flour a standard 12-cup muffin pan, or use paper liners. 36 Cupcake recipes — Bohemian Revolution. Samoas Cupcakes | Sweet Pea's Kitchen - StumbleUpon. Preheat the oven to 350 F.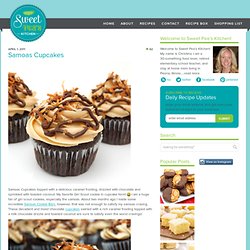 Line muffin pan with paper liners. In a medium bowl, whisk together the flour and cocoa powder. In the bowl of a stand mixer fitted with the paddle attachment, cream together the butter, sugar, salt, baking soda, vanilla, and coconut extract until fluffy and light, at least 3-4 minutes. Chocolate Cupcakes with Flaming Strawberries. Brownie Batter + Cupcake = The SECOND BEST Cupcake. Ever Recipe. Stephanies Kitchen – Snickerdoodle Cupcakes w/Cinnamon Cream Cheese Frosting - StumbleUpon. My kids have been running around the house like chickens with their heads cut off. Tornados really. I don't know if it is because we got our usual winter snowstorm in early spring, or if they are just tired of being in the house. Maybe a combination of both. Cupcakes - Crumbs Bake Shop - Cupcake Cakes, Wedding Cupcakes, Carrot Cupcakes.
Coca-Cola Cupcakes. I don't drink coca-cola. But I do eat it. Weird. Yeah, I dunno. Banana Cupcakes with Honey-Cinnamon Frosting. Pumpkin Cupcakes With Cinnamon Cream Cheese Frosting. I couldn't believe my eyes this week when I saw the ad for Pumpkin Spice Lattes in my local Starbucks. Pumpkin Spice already? But there's still a little more summer to be had, isn't there? Of course, it was impossible to stay upset for too long; after all, this is lovely pumpkin -- one of my favorite flavors of all time -- that we're talking about! Chocolate Chip Cookie Dough Cupcakes - StumbleUpon. On the verge of sounding too excited about these cupcakes, I'll just get my excitement out now, so I can write calmly for the rest of this post.
Ready? Ohmygoshthesearethemostamazingcupcakesintheentireworld!!!! Okay, I feel better now. In case you couldn't already tell, these cupcakes are incredible. Homemade Hostess Cupcakes - What Megan's Making. Cupcakes 1 1/4 cups unbleached, all-purpose flour 2 teaspoons baking soda 2 teaspoons baking powder 1/4 teaspoon coarse salt 1 1/4 cups granulated sugar 4 ounces unsweetened chocolate, chopped 1 stick unsalted butter, cut into pieces 2 teaspoons pure vanilla extract 2 large eggs, lightly beaten Filling 4 tablespoons unsalted butter, at room temperature 1 cup powdered sugar 2 teaspoons pure vanilla exrtact 3 tablespoons heavy cream 1 cup marshmallow creme Ganache 6 ounces bittersweet chocolate, chopped 1/2 cup heavy cream 1 tablespoon unsalted butter 2 teaspoons pure vanilla extract.
Butterbeer Cupcakes | Tennessee Sugar.
---