Bread & Rolls
Making empanadas from scratch and memory - Guest Chef. "I'll make the dough this year," I tell Nelly on the phone.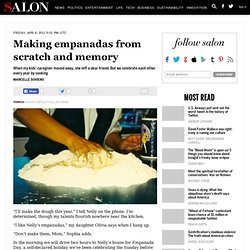 I'm determined, though my talents flourish nowhere near the kitchen. "I like Nelly's empanadas," my daughter Olivia says when I hang up. Flatbreads Recipe-Entertaining-travel-elledecor.com. Naan Bread Ingredients • 4tsp. instant dry yeast • 1scant cup warm milk • 1T sugar • 1egg • 1T yogurt • ½cup olive oil • 4cups all-purpose flour • 1tsp. salt • 1cup melted butter • 4T Madras curry powder • 2tsp. nigella seeds or black sesame seeds • 2T coarse sea salt Special equipment: pizza stone Directions In a small bowl, dissolve the yeast with the warm milk and sugar; let sit at room temperature for 15 minutes or until foamy.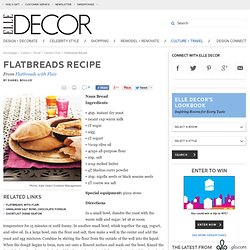 Panda Bread. Ok, so I've seen a lot of amazingly cute panda things, but this literally made me giddy when I saw it.
I've never seen anything like it and I really want to try out the recipe. The original recipe is from an Asian website called Taro Taro (which features a photo gallery of user submitted panda bread!) , luckily for those of us who can't read the site, wlteef.blogspot.com was kind enough to post a translation. The recipe is after the cut! Cheese Pinwheel Rolls.
Sooner or later, all my conversations inevitably turn to food.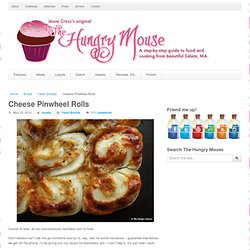 Don't believe me? Call me up sometime and try to, say, sell me some insurance. I guarantee that before we get off the phone, I'll be giving you my recipe for blackberry jam. I can't help it. It's just how I work. Nutella Cinnamon Rolls. May 10, 2011 | Print | E-mail | Filed under bread, nutella There are some days that I just lose my appetite.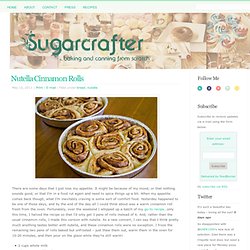 It might be because of my mood, or that nothing sounds good, or that I'm in a food rut again and need to spice things up a bit. When my appetite comes back though, what I'm inevitably craving is some sort of comfort food. Yesterday happened to be one of those days, and by the end of the day all I could think about was a warm cinnamon roll fresh from the oven. Easy Brazilian Cheese Bread (Pão de Queijo) Recipe. Our tour of Brazil continues.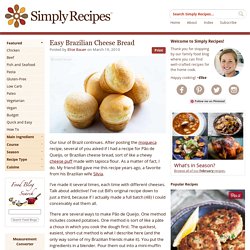 After posting the moqueca recipe, several of you asked if I had a recipe for Pão de Queijo, or Brazilian cheese bread, sort of like a chewy cheese puff made with tapioca flour. As a matter of fact, I do. My friend Bill gave me this recipe years ago, a favorite from his Brazilian wife Silvia. Kitchen Hack: One-Minute Bread. Oven-fresh bread is one of life's simple joys.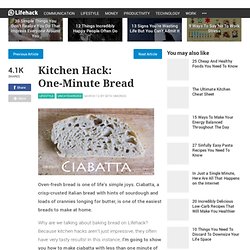 Ciabatta, a crisp-crusted Italian bread with hints of sourdough and loads of crannies longing for butter, is one of the easiest breads to make at home. Why are we talking about baking bread on Lifehack? Because kitchen hacks aren't just impressive, they often have very tasty results! In this instance, I'm going to show you how to make ciabatta with less than one minute of prep time. How is that possible? Cheesy Puff Pull Apart Bread. I made plans for you this weekend.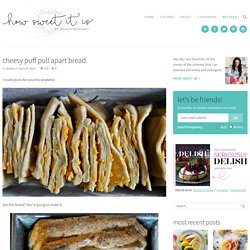 See this bread? You're going to make it. And you're going to like it too. Like everyone else who owns a computer, I feel in love with the cinnamon version. Hasselback Garlic Cheesy Bread. Hasselback Garlic Cheesy Bread First thing: this Calphalon Giveaway ends on Friday!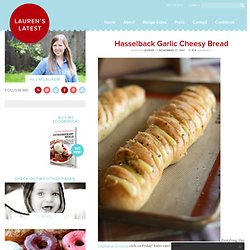 Enter enter enter! Second thing: this bread is the bomb. Homemade Bread. This is it!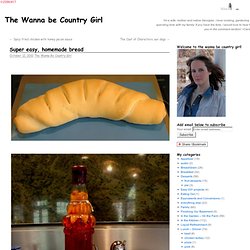 This is the only white bread recipe you'll ever need. It's that good. I can't take the credit though, I got this recipe from a fellow member on a website named www.backyardchickens.com her name is Gumpsgirl and I say a thank you ever time I make this bread. Here we go. Pumpkin Cinnamon Rolls. If you happen to read MBA on a regular basis, you may remember me discussing my fear of yeast and my attempt to conquer that fear with the help of Amber from Bluebonnets and Brownies. Well since that post a couple of months back, I have been a bread baking fool and no longer doubt myself in the yeast department.
In fact, I probably have more bread baking supplies and tools than some bakeries and with that came a serious addiction to the King Arthur Flour website. Since I'm no longer a yeast novice, you can imagine how excited I am to flaunt my newly developed skills for this week's Holiday Recipe Exchange sponsored by Red Star Yeast. As soon as we gained Red Star Yeast as a sponsor, I knew exactly what I was going to make – Pumpkin Cinnamon Rolls.
---