Twitter
Over the past year, Twitter's desktop audience has grown by 53 percent, reaching 5.5 million French internet users in November 2012, making France the 7th largest market for Twitter.
Who Is Using Twitter in France?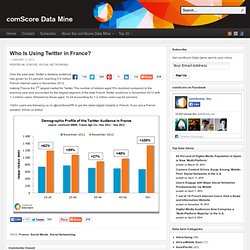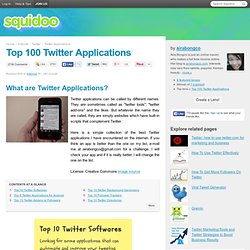 Twitter is a status-updating or microblogging social networking website. It is a breakthrough in social networking because it takes communication into another level. Before, a person can only update his status (eg. what he's doing, where he is) at a certain time.
internet - Is it true that you can't tweet "Get Better." because it's something Dorsey's father used to say? - Skeptics
Twitter lance... l'abonnement par email !
Mardi 15 mai Réseaux sociaux - 15 mai 2012 :: 08:20 :: Par Eric Quand Twitter a racheté et fermé Summify en janvier dernier, les utilisateurs se demandaient ce qu'il allait advenir de cet excellent service de résumé d'actualité poussé par email et via une application iPhone. Maintenant on sait : Twitter lance un service d'abonnement par email.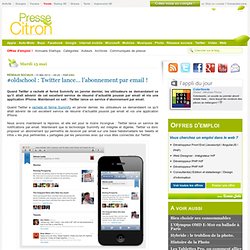 Twitter lance une lettre d'information hebdomadaire
La tension de la population se prend sur Twitter | L'Atelier: Disruptive innovation | Information, communication et stratégie
Russie : Intouch fait dans le sensationnel sur Twitter | Kitty news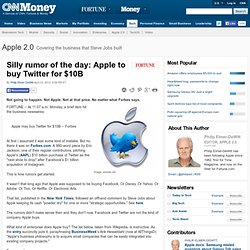 Silly rumor of the day: Apple to buy Twitter for $10B
Image: weeble.net FORTUNE -- At 11:07 a.m. Monday, a brief item hit the business newswires: Apple may buy Twitter for $10B -- Forbes At first I assumed it was some kind of mistake. But no, there it was on Forbes.com: A 980-word piece by Eric Jackson, one of their regular contributors, pitching Apple's (AAPL) $10 billion purchase of Twitter as the "next shoe to drop" after Facebook's $1 billion acquisition of Instagram.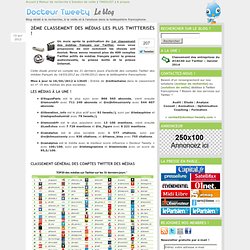 2ème classement des médias les plus Twitterisés !
Cette étude prend en compte les 31 derniers jours d'activité des comptes Twitter des médias français du 14/03/2012 au 15/04/2012) dans la twittosphère francophone. Mise à jour le 16/04/2012 à 13h45 : Entrée de @m6lachaine dans le classement en n° 19 des médias les plus sociables. Les médias à la Une ! @VogueParis est le plus suivi avec 866 565 abonnés, vient ensuite @lemondrfr avec 711 240 abonnés et @nrjhitmusiconly avec 544 607 abonnés. @liberation_info est le plus actif avec 92 tweets/j, suivi par @ledauphine et @ladepechedumidi avec 79 tweets/j. @lemondrfr est le plus populaire avec 13 100 mentions, vient ensuite @LesEchos avec 7 720 mentions et @le_figaro avec 6 221 mentions.
Arnaud Dassier mis en examen pour un tweet
Vos tweets apparaitront bientôt sur des panneaux en plein centre ville
Nous vivons d'ores et déjà dans un monde numérique qui permet un accès unique à l'actualité en temps réel.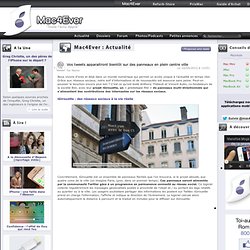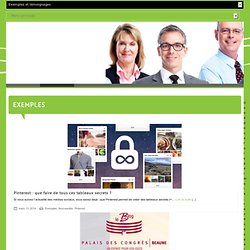 Sodifalux : l'exemple d'une PME industrielle qui utilise les réseaux sociaux
Twittoscope™ - décembre 2011
Pourquoi Twitter peut-il être un outil efficace pour les RP ?
"Twitter, c'est revenir au journalisme" pour Bernard Pivot
Peut-on utiliser vos tweets dans une pub ?
L'une des plus grandes affaires médiatiques de ces dernières années avait donc commencé le 14 mai, par un tweet. 121 petits caractères qui allaient faire parler d'eux pendant des mois et des mois : Quasiment un an après, il n'était finalement pas si étonnant que tout se termine, ou presque, par un autre tweet :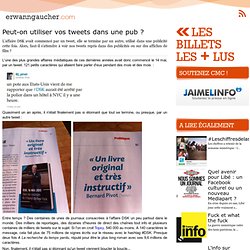 New Twitter Brand Pages – Guideline and Examples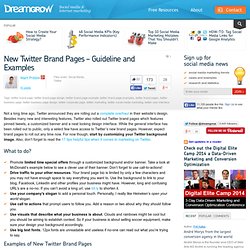 Not a long time ago, Twitter announced they are rolling out a complete overhaul in their website's design. Besides many new and interesting features, Twitter also rolled out Twitter brand pages which features pinned tweets, a customized banner and a neat looking design interface. While the general interface has been rolled out to public, only a select few have access to Twitter's new brand pages.