Sewing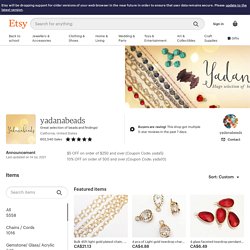 10% OFF on order of $100 and over (Coupon Code: yada10) 15% OFF on order of $200 and over (Coupon Code: yada15) 20% OFF on order of $300 and over (Coupon Code: yada20) - Please apply the coupon code at check out. Discount is only applied to item price. It cannot be combined with any other offers.
Great Selection of Beads and Findings Supply by yadanabeads
Out of Order: DIY Tutorial - Full Skirt
Watch out, it's a big file! Also see how to color fleece eyes to go on your hat. --> [link]How to replace the band with ear-flaps! --> [link]And how to sew on ears! --> [link] Pattern: also notes the size of the rectangleNOTE: pattern includes a 1/4" or .6cm seam allowance.
Fleece Hat Tutorial by ~clearkid on deviantART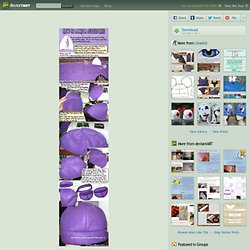 Wristlet
Sometimes you want to travel light – with just the essentials at hand. For this, you need: . A tiny, tidy tote that hangs from your wrist.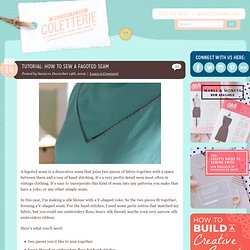 How to sew a fagoted seam
A fagoted seam is a decorative seam that joins two pieces of fabric together with a space between them and a row of hand stitching. It's a very pretty detail seen most often in vintage clothing. It's easy to incorporate this kind of seam into any patterns you make that have a yoke, or any other simple seam.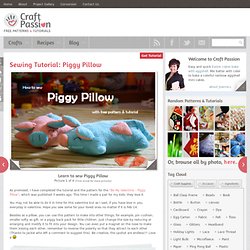 Picture 208 « Sewing Tutorial: Piggy Pillow
As promised, I have completed the tutorial and the pattern for the "Be My Valentine – Piggy Pillow", which was published 3 weeks ago. This time I made a pair for my kids, they love it. You may not be able to do it in time for this valentine but as I said, if you have love in you, everyday is valentine. Hope you sew some for your loved ones no matter if it is Feb 14.
Weekly DIY Roundup: Craft Space Organization and Inspiration! | ThreadBanger - D.I.Y Fashion & Style
[From Bobbie Suttie, images copyright Jan Bruyndonckx and used with permission] A Kilt is basically a pleated, wrapped skirt. The back half of the kilt is pleated, the front half (apron) is the made of two overlapping panels. A true kilt is completely handmade. There are some small variations in my version, which I have added for ease of wear, such as adding Velcro across the front of the apron.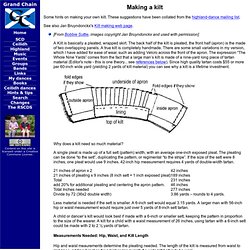 Making a kilt
Fabric Mart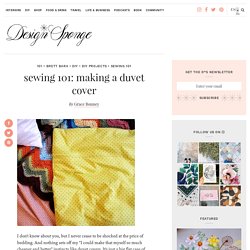 I don't know about you, but I never cease to be shocked at the price of bedding. And nothing sets off my "I could make that myself so much cheaper and better" instincts like duvet covers. It's just a big flat case of fabric, yet even the simplest options easily soar into the three digits—but all it takes to make your own is a bunch of fabric, a few straight seams, and a spare afternoon. Not only will going DIY with your duvet cover save you some cash, it'll also allow you to custom-make exactly what you are looking for. What's better than that?
sewing 101: making a duvet cover
Sew Liberated: kitty doll tutorial
Some children are doll children. Some children are stuffed animal children. I was a stuffed animal child, and so are my nieces, the giddy recipients of these here kitty dolls.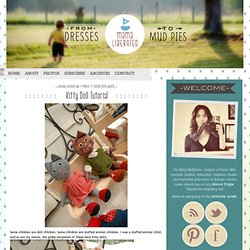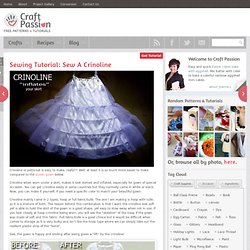 Sewing Tutorial: Sew A Crinoline
Crinoline or petticoat is easy to make, really!!! Well, at least it is so much more easier to make compared to the queen gown below. Crinoline when worn under a skirt, makes it look domed and inflated, especially for gown of special occasion. You can get crinoline easily in some countries but they normally came in white or black. Now, you can make it yourself, if you need a specific color to match your beautiful gown.
VPLL - Home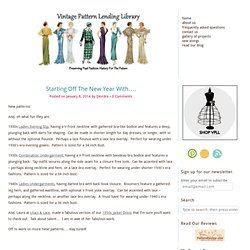 Cover – May 1897 (Click on any image to see a larger view) As you can see this issue of The Standard Designer that has just arrived at the Archives is a bit worse for wear. The cover has been taped several times, and has seen a lot of hard usage.
Sewing Techniques, Tutorials, Lessons, Videos, Photos
Home Page | Sublime Stitching
HOMEMADE OUTDOOR GEAR
Hideous! Dreadful! Stinky!: Faux-y Lady
This is my entry to the Singer/Craftsine.com Me, My Scarf and I Contest The contest requires that you explain how your scarf reflects your personality. This is what I wrote: How can something so elegant and sophisticated be so silly at the same time? In my Faux-y Lady scarf, I tried to capture that strange juxtaposition inherent in the vintage fur pelts that have always fascinated me. If this scarf is a reflection of my personality, I hope it comes off a little bit quirky and unconventional, but with a great sense of humor, and somehow still a teensy bit debonair.
Craft supplies, scrapbooking and sewing at discount prices
Free Stuff Friday!! It's Friday again, so we get to give away another great prize! Today's winner will receive a stitching prize pack! Our lucky winner will receive 6 packs of aida cloth, 4 stitching patterns, and 2 boxes of yarn! Every Friday we'll post a giveaway on Think Crafts and all you have to do is comment on the blog post answering the question of the week. We'll pick the winners and contact them via email.
Decorative Trims, Cords & Fringe from M&J Trimming
Distinctive Fabric Superstore - Your source for unique fabrics at unbelievable prices
Welcome to DistinctiveFabric.com. We've been selling our fabrics exclusively on the Internet since 2004, by both the yard (retail) or by bolt/roll (wholesale). Our evocative, quality cloth is the essential building block to the perfect garment, Halloween (or other) costume, curtains, craft, or do-it-yourself project. And on our site you'll find just the textiles you are looking for, at prices that cannot be beat - online or elsewhere (see our Volume Discounts). We even offer free fabric samples to test our fabrics out to be sure they're the right match for your sewing needs.
I hope you had a Happy Christmas. As previously mentioned, crafty activity has come to a temporary halt, hence no posting for me, but I have one project still up my sleeve to share. This is the last one I completed before Christmas. I will preface by saying that normally I intend to keep this blog strictly craft-related and leave out the personal stuff. I'm not a huge fan of over-sharing on the web, and that's just not the purpose of this site for me.
Embroidery