Photos.
40 Best Facebook Timeline Covers to Impress Your Friends. Iain.codejoust.com/wp-content/uploads/2009/05/surreal-beach.jpg. Stormtrooper-rip.jpg (838×518) Milky_way_sky-1920x1200.jpg (1920×1200) Mwcliffs_vetter_2000.jpg (2000×1219) 712.jpg (1600×1200) Crazy yet amazing photos Photos | Crazy yet amazing photos Pictures. High Speed Liquid and Bubble Photographs by Heinz Maier. It never ceases to amaze me: just when I think I've seen every possible permutation of an artform or technique—be it figurative sculpture, stop motion animation, or in this case, high speed photography—somebody comes along and manages to do something radically different.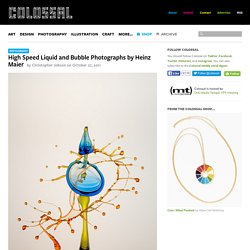 German photographer Heinz Maier says that he began taking photographs less than a year ago in late 2010. He claims to not know what direction he's heading in just yet, right now he's experimenting with macro photography, mostly insects, animals, and these delicate high speed water droplets. Personally, I think he's found a great direction. There are so many things happening here to make these photographs simply outstanding: the lighting, the colors, the occasional use of symmetry in the reflection of water, let alone the skill of knowing how to use the camera itself. It's hard to believe these aren't digital.
Water under the bridge: Crystal clear river is so clean you can see 50ft to the bottom. By Suzannah Hills Published: 14:55 GMT, 5 April 2012 | Updated: 06:49 GMT, 6 April 2012 A crystal clear river is so clean that the 50ft deep riverbed can be seen from a bridge crossing over the water.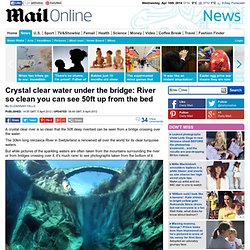 The 30km long Verzasca River in Switzerland is renowned all over the world for its clear turquoise waters. Aystein-Lunde-Ingvaldsen1.jpg (1024×681) Funny Underwater Dogs. Great collection by Seth Casteel Award-winning photographer Seth Casteel has been featured on GOOD MORNING AMERICA, EXTRA, CNN WORLD REPORT, THE TODAY SHOW, JEOPARDY!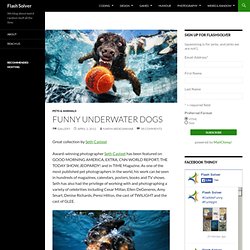 And in TIME Magazine. As one of the most published pet photographers in the world, his work can be seen in hundreds of magazines, calendars, posters, books and TV shows. Seth has also had the privilege of working with and photographing a variety of celebrities including Cesar Millan, Ellen DeGeneres, Amy Smart, Denise Richards, Perez Hilton, the cast of TWILIGHT and the cast of GLEE.
Tihi - The cute hamster. At the right moment - part 5 (16 pictures) Entrance to Ice age = Mind blown (pic) | Digg Topnews. Pictures of Moments Speak More than Thousand Words...... Picture can speak thousands of words.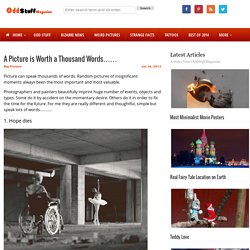 Random pictures of insignificant moments always been the most important and most valuable. Photographers and painters beautifully imprint huge number of events, objects and types. Star Wars Lego death stormtroopers fire - Wallpaper (#1035885. Manipulation-21.jpg (JPEG Image, 615x450 pixels) The Top 50 'Pictures of the Day' for 2011. Every day at 5pm the Sifter posts the Picture of the Day.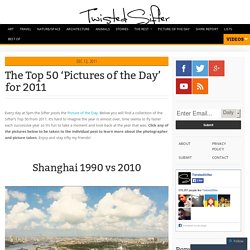 Below you will find a collection of the Sifter's Top 50 from 2011. It's hard to imagine the year is almost over, time seems to fly faster each successive year so it's fun to take a moment and look back at the year that was. Click any of the pictures below to be taken to the individual post to learn more about the photographer and picture taken.
The Tree Tunnel. 8 Effects Every Photographer Should Know About. Photography seems easy at first glance.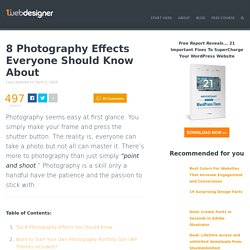 You simply make your frame and press the shutter button. The reality is, everyone can take a photo but not all can master it. BACK TO THE FUTURE 2 (2011) : Irina Werning - Photographer. Now its time for KOREA, TAIWAN AND TOKYO.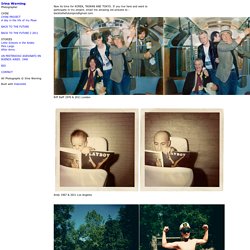 If you live here and want to participate in my project, email me amazing old pictures to : backtothefuturepics@gmail.com Riff Raff 1976 & 2011 London Andy 1967 & 2011 Los Angeles Johanes 1994 & 2011 Hamburg. These 50 Photos Will Blow you Away. Great news today: we will start a series of showcases that are meant to make the jaws drop!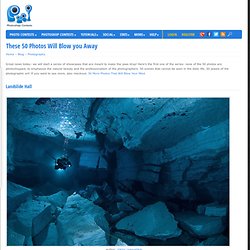 Here's the first one of the series: none of the 50 photos are photoshopped, to emphasize the natural beauty and the professionalism of the photographers. 50 scenes that cannot be seen in the daily life, 50 jewels of the photographic art! If you want to see more, also checkout: 50 More Photos That Will Blow Your Mind Landslide Hall Clouds on Fire. I'm Superman, you know! by hardibudi. Adultfanart12X80548ahXt.jpg (JPEG Image, 1680x945 pixels) - Scaled (75%) Happy-animals-732.jpg (JPEG Image, 640x425 pixels) Korra123.gif (GIF Image, 320x240 pixels) The Monster flies" by Vladimir Popov / Uhaiun. 25 Stunning HDR Wallpapers. Mind-Blowing Illustrations by Loopy Dave. AT-110805-colorful-ants-03.photoblog600.jpg (JPEG Image, 600x442 pixels) [Amazing!} by Pavel Tereshkovets. Gun_2.jpg (JPEG Image, 600x903 pixels) - Scaled (94%)
Reflection. 267.jpg (JPEG Image, 759x950 pixels) - Scaled (89%) 48208_0_1208x1005.jpg (JPEG Image, 1208x1005 pixels) - Scaled (84%) Mother and Daughter. Light Paintings by Dennis Calvert. Beauty in Everything - Photography. 25763-fullsize.JPG (JPEG Image, 647x429 pixels) Stefano Unterthiner Photography : Animals Face to Face | COLT + RANE. 145.jpg (JPEG Image, 1200x799 pixels) Big_guns.jpg (JPEG Image, 640x480 pixels) Bird photos, bird pictures, sounds of birds, Kingfisher - photo stock.
Nature photography - pictures of animals, pictures of birds, pictures of butterflies, macro photography of insects, plant photos, pictures of mushrooms.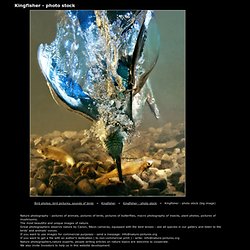 The most beautiful and unique images of nature. Great photographers observe nature by Canon, Nikon cameras, equipped with the best lenses - see all species in our gallery and listen to the birds' and animals' voices. If you want to use images for commercial purposes - send a message: info@nature-pictures.org If you want to get a file with an author's dedication ( to non-commercial print ) - write: info@nature-pictures.org Nature photographers,nature experts, people writing articles on nature topics are welcome to cooperate. We also invite Investors to help us in this website development.
1302953945654_f.jpg (JPEG Image, 375x500 pixels) Why You NEED To Sleep With A Teddy Bear. 'Wildlife Photo Contest - National Wildlife Federations Photo Contest. Sci Fi Post Apocalyptic Wallpaper. 51 Breathtaking Post-Apocalypse Wallpapers. 48742_0_1208x1005.jpg (JPEG Image, 1208x1005 pixels) - Scaled (85%) Split Family Faces. P-animal.jpg (JPEG Image, 500x488 pixels) Алые паруса 2011 - Раздел город. BAD DAY !!!!" by eric c. 217794_1266152627_large.jpg (JPEG Image, 1600x1226 pixels) - Scaled (68. Joseph Cartright Photography. 6a32983r.jpg (JPEG Image, 1812x420 pixels) - Scaled (69%) Creepy, Crusty, Crumbling: Illegal Tour of Abandoned Six Flags New Orleans [75 Pics]
18-final-image.jpg (JPEG Image, 1000×750 pixels) SteampunkGirl. Let me say morning glory « letmesay. Image: 'Cityscape' by Marco Bauriedel - category Fantasy - 3DTotal.com site - CG artist home// The Girl Who Loves to Levitate (14 photos) e17_00000014.jpg (JPEG Image, 991×582 pixels) 70 Photos That Will Take Your Breath Away.
---