Media?
Wardshelley_scifiSmaller.jpg (3400×1826) Books that will induce a mindfuck.
Films. ShortForm. NSFW. Photos. Music. A Subtle Kind of Love - A Small Story. A SUBTLE KIND OF LOVE.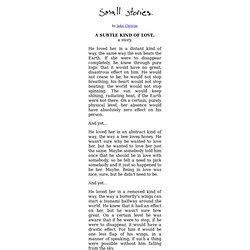 A story. He loved her in a distant kind of way, the same way the sun heats the Earth. If she were to disappear completely, he knew through pure logic that it would have no great, disastrous effect on him. He would not cease to be; he would not stop breathing; his heart would not stop beating; the world would not stop spinning.
The sun would keep shining, radiating heat, if the Earth were not there.
---