Unix
This Howto describes how to add an Ubuntu box in an Active Directory domain and to authenticate the users with AD. Note: Centrify Express and Likewise Open are alternative solutions for Linux systems to authenticate to an Active Directory domain. For Centrify Express see DirectControl. For Likewise Open see [LikewiseOpen] or Likewise Open. Used terms The first step in joining an Active Directory domain is to install and configure Kerberos.
ActiveDirectoryWinbindHowto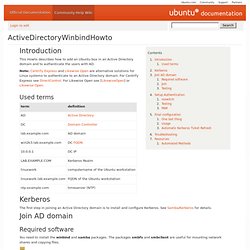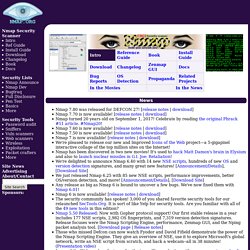 We're pleased to release our new and Improved Icons of the Web project—a 5-gigapixel interactive collage of the top million sites on the Internet! We've also launched a Kickstarter for a 36x24 inch poster version, but you need to order by January 17! Nmap has been discovered in two new movies! It's used to hack Matt Damon's brain in Elysium and also to launch nuclear missiles in G.I. Joe: Retaliation!
Un serveur LAMP est un serveur Web. Historiquement, l'acronyme « LAMP » fait référence aux quatre composantes d'un tel serveur Web : Linux : le système d'exploitation constituant la base du système. Ici, il s'agit d'Ubuntu.Apache : le serveur HTTP qui gère la communication avec le client. MySQL : le système de gestion de base de données. PHP : le langage de script utilisé pour générer les pages dynamiques.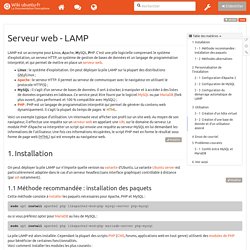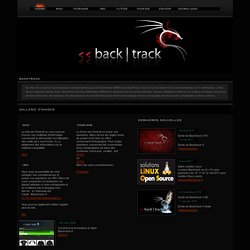 Le wiki est l'endroit ou vous pourrez trouver une multitude d'information concernant la distrubution et l'utilisation des outils qui y sont inclus. Il y a également des informations sur le matériel compatible. Vous avez la possibilité de venir partager vos connaissances et posez-vos questions sur IRC.
The configuration of OpenLDAP got a bit (more) complicated. cn=config is still used, but when installing the packages from the repositories only a skeleton configuration of openldap is installed. You're not asked anymore to provide a password when the package is installed and issuing the "dpkg-reconfigure slapd" only resets openldap to the skeleton configuration. You will have to set up the openldap database, root dn and acl's yourself using the root account (or sudo) in order to configure openldap. Here is how I configured openldap in Karmic Koala, but I do not issue any guarantee that this setup will suit your needs or works for you as it worked for me. There is an official statement about this (https://lists.ubuntu.com/archives/ubuntu-server/2009-August/003182.html) but the official guide on help.ubuntu.com is outdated and does not tell you how to configure openldap on Karmic Koala. Note:
Install And Configure OpenLDAP On Ubuntu Karmic Koala | HowtoFor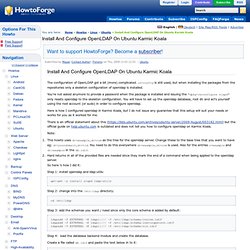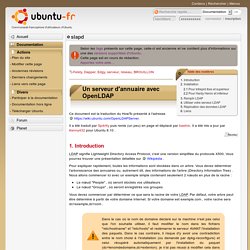 Introduction LDAP signifie Lightweight Directory Access Protocol, c'est une version simplifiée du protocole X500. Vous pourrez trouver une présentation détaillée sur Wikipédia . Pour expliquer rapidement, toutes les informations sont stockées dans un arbre.
slapd