The Serpentwar Saga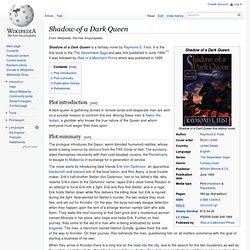 Shadow of a Dark Queen
Shadow of a Dark Queen is a fantasy novel by Raymond E. Feist. It is the first book in the The Serpentwar Saga and was first published in June 1994.[1] It was followed by Rise of a Merchant Prince which was published in 1995. Plot introduction[edit]
Rise of a Merchant Prince is a fantasy novel by Raymond E. Feist. It is the second book of The Serpentwar Saga and is preceded by Shadow of a Dark Queen and followed by Rage of a Demon King. Erik von Darkmoor and Rupert Avery (Roo), have returned to Krondor after serving in Calis special unit that was sent down to the continent of Novindus. Erik plans on staying in the army as a corporal in the coming war, and Roo states that he plans on becoming a rich trader. After being pardoned of their crimes by Borric, King of the Kingdom of the Isles, Erik and Roo begin a journey to visit their family in the town of Ravensburg.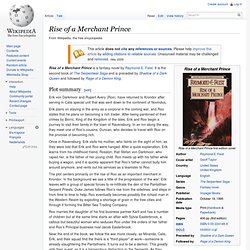 Rise of a Merchant Prince
Rage of a Demon King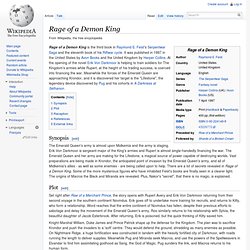 Synopsis[edit] The Emerald Queen's army is almost upon Midkemia and the army is staging. Erik Von Darkmoor is sergeant-major of the King's armies and Rupert is almost single-handedly financing the war.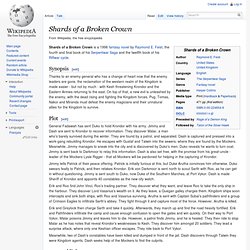 Shards of a Broken Crown is a 1998 fantasy novel by Raymond E. Feist, the fourth and final book of his Serpentwar Saga and the twelfth book of his Riftwar cycle. Synopsis[edit] Thanks to an enemy general who has a change of heart now that the enemy leaders are gone, the reclamation of the western realm of the Kingdom is made easier - but not by much - with Kesh threatening Krondor and the Eastern Armies returning to the east.
Shards of a Broken Crown