Terry Pratchett
Overview[edit] The story is set in a portion of the galaxy populated by fifty-two different sentient species. All of these species, humanity among them, have evolved in the last five million years, and all of them have evolved in a spherical volume of space only a few dozen light-years across centred on Wolf 359.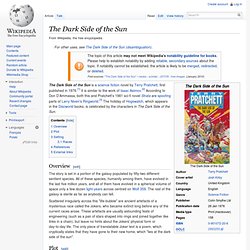 The Dark Side of the Sun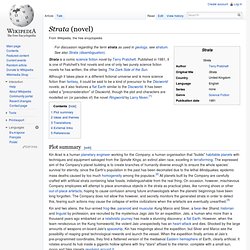 Strata (novel)
Strata is a comic science fiction novel by Terry Pratchett. Published in 1981, it is one of Pratchett's first novels and one of only two purely science fiction novels he has written, the other being The Dark Side of the Sun. Kin Arad is a human planetary engineer working for the Company, a human organisation that "builds" habitable planets with techniques and equipment salvaged from the Spindle Kings, an extinct alien race, excelling in terraforming. The expressed aim of the Company's planet building is to create branches of humanity diverse enough to ensure the whole species' survival for eternity, since the Earth's population in the past has been decimated due to the lethal Mindquakes, epidemic mass deaths caused by too much homogeneity among the populace.[2] All planets built by the Company are carefully crafted with artificial strata containing false fossils, indistinguishable from the real thing.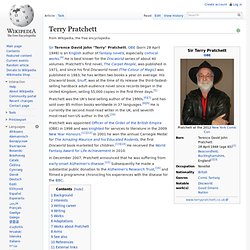 Pratchett was the UK's best-selling author of the 1990s,[6][7] and has sold over 85 million books worldwide in 37 languages.[8][9] He is currently the second most-read writer in the UK, and seventh most-read non-US author in the US.[10] Pratchett was appointed Officer of the Order of the British Empire (OBE) in 1998 and was knighted for services to literature in the 2009 New Year Honours.[11][12] In 2001 he won the annual Carnegie Medal for The Amazing Maurice and his Educated Rodents, the first Discworld book marketed for children.[13][14] In December 2007, Pratchett announced that he was suffering from early-onset Alzheimer's disease.[15] Subsequently he made a substantial public donation to the Alzheimer's Research Trust,[16] and filmed a programme chronicling his experiences with the disease for the BBC. Background[edit]
Good Omens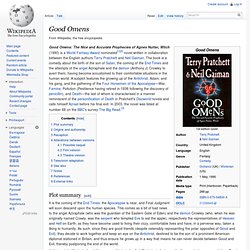 Plot summary[edit] It is the coming of the End Times: the Apocalypse is near, and Final Judgment will soon descend upon the human species. This comes as a bit of bad news to the angel Aziraphale (who was the guardian of the Eastern Gate of Eden) and the demon Crowley (who, when he was originally named Crawly, was the serpent who tempted Eve to eat the apple), respectively the representatives of Heaven and Hell on Earth, as they have become used to living their cozy, comfortable lives and have, in a perverse way, taken a liking to humanity.
Novels by Terry Pratchett - Wikipedia, the free encyclo
Terry Pratchett Quotes
Always be wary of any helpful item that weighs less than its operating manual. Terry Pratchett I'll be more enthusiastic about encouraging thinking outside the box when there's evidence of any thinking going on inside it.