Terry Pratchett
The Dark Side of the Sun is a science fiction novel by Terry Pratchett , first published in 1976. [ 1 ] It is similar to the work of Isaac Asimov . [ 2 ] According to Don D'Ammassa, both this and Pratchett's 1981 sci-fi novel Strata are spoofing parts of Larry Niven 's Ringworld . [ 3 ] The holiday of Hogswatch , which appears in the Discworld books, is celebrated by the characters in The Dark Side of the Sun . [ edit ] Overview The story is set in a portion of the galaxy populated by fifty-two different sentient species.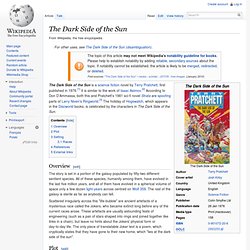 The Dark Side of the Sun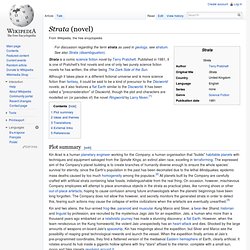 Strata (novel)
For discussion regarding the term strata as used in geology , see stratum . See also Strata (disambiguation) .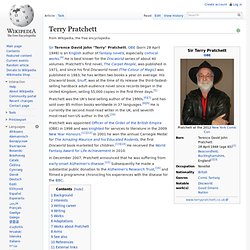 Sir Terence David John "Terry" Pratchett , OBE (born 28 April 1948) is an English author of fantasy novels , especially comical works . [ 4 ] He is best known for the Discworld series of about 40 volumes.
Good Omens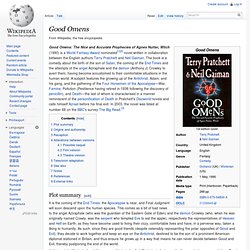 Good Omens: The Nice and Accurate Prophecies of Agnes Nutter, Witch (1990) is a World Fantasy Award nominated [ 1 ] novel written in collaboration between the English authors Terry Pratchett and Neil Gaiman . The book is a comedy about the birth of the son of Satan , the coming of the End Times and the attempts of the angel Aziraphale and the demon Crowley to avert them, having become accustomed to their comfortable situations in the human world. A subplot features the gathering of the Four Horsemen of the Apocalypse — War , Famine , Pollution (Pestilence having retired in 1936 following the discovery of penicillin ), and Death —the last of whom is characterised in a manner reminiscent of the personification of Death in Pratchett's Discworld novels and calls himself Azrael before his final exit.
Terry_pratchett.jpg (JPEG Image, 363x401 pixels)
Novels by Terry Pratchett - Wikipedia, the free encyclo
Terry Pratchett Quotes
Always be wary of any helpful item that weighs less than its operating manual. Terry Pratchett I'll be more enthusiastic about encouraging thinking outside the box when there's evidence of any thinking going on inside it.