Terry Pratchett
Overview[edit] The story is set in a portion of the galaxy populated by fifty-two different sentient species. All of these species, humanity among them, have evolved in the last five million years, and all of them have evolved in a spherical volume of space only a few dozen light-years across centred on Wolf 359.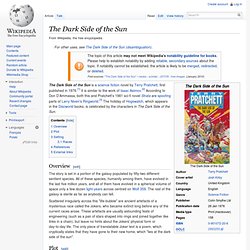 The Dark Side of the Sun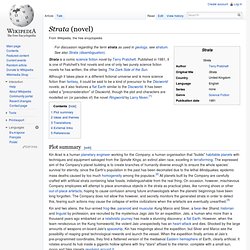 Strata (novel)
Strata is a comic science fiction novel by Terry Pratchett. Published in 1981, it is one of Pratchett's first novels and one of only two purely science fiction novels he has written, the other being The Dark Side of the Sun.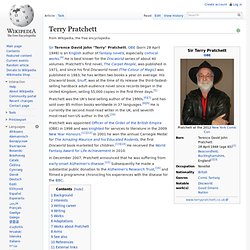 Sir Terence David John "Terry" Pratchett, OBE (born 28 April 1948) is an English author of fantasy novels, especially comical works.[4] He is best known for the Discworld series of about 40 volumes.
Good Omens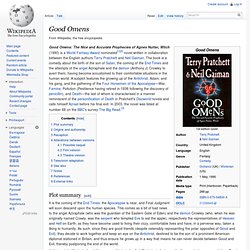 Plot summary[edit] It is the coming of the End Times: the Apocalypse is near, and Final Judgment will soon descend upon the human species. This comes as a bit of bad news to the angel Aziraphale (who was the guardian of the Eastern Gate of Eden) and the demon Crowley (who, when he was originally named Crawly, was the serpent who tempted Eve to eat the apple), respectively the representatives of Heaven and Hell on Earth, as they have become used to living their cozy, comfortable lives and have, in a perverse way, taken a liking to humanity.
Novels by Terry Pratchett - Wikipedia, the free encyclo
Terry Pratchett Quotes
Always be wary of any helpful item that weighs less than its operating manual. Terry Pratchett I'll be more enthusiastic about encouraging thinking outside the box when there's evidence of any thinking going on inside it.