Websites
List of Bleach episodes. Episode 366, "Changing History, Unchanging Heart", which aired March 27, 2012 was the last episode of Bleach to air on TV Tokyo.[3] Forty-five pieces of theme music are used for the episodes: Fifteen opening themes and thirty closing themes.
Several CDs that contain the theme music and other tracks have been released by Studio Pierrot.[4] As of January 23, 2013, all 366 episodes have been released by Aniplex in Japan in 88 DVD compilations.[5] 32 DVD compilations of the English adaptation of the anime have been released by Viz Media,[6][7] and seven season boxsets have been released that contain the first seven seasons of the anime.[8][9][10] Episode list[edit] Note: some English air dates are listed as the day before they were actually aired, as is the convention of the Adult Swim online syndication schedule.[11] Season 1: The Substitute (2004–2005)[edit] Season 2: Soul Society: The Entry (2005)[edit] Watch Bleach Episodes 252 English Subbed & Dubbed Movies Online. Anime Media - Watch Episodes Online | Bleach Episodes.
You are going to watch Bleach Episodes english subbed / dubbed online for free.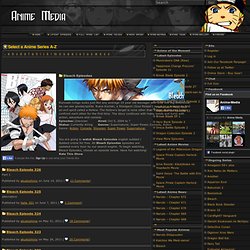 All Bleach Episodes episodes are updated every hour by our search engine. To begin watching Bleach Episodes, choose an episode below. Have fun watching! Rate This Show.
---