Fine art
Gimpshop | The Free Photoshop Alternative. MyPaint. 14813418150_0cbb0ea216_o.jpg (JPEG Image, 7360 × 4912 pixels) - Scaled (18%) Free tools to create comic strips. Creating cartoons and comic strips for educational uses can be quite interesting task.
It obviously pushes the reluctant students to participate more and rub the dust off their brains. Students love to work in groups and compete with each other especially when there are motivating incentives for them. One of these incentives is the integration of comic strips into parts of your lesson. Thanks to web 2.0 technologies , educators and teachers will never run short of new innovative ideas.
There are a bunch of free to use technologies that can be used with our students to create an educationaly healthy environment full of both fun and learning. Wideo - Make animated online videos free. Creator Royalty Program | Motif Investing. 32 on-set photos of Christian Bale and Heath Ledger during the interrogation scene from THE DARK KNIGHT, accompanied with Christopher Nolan interview bytes breaking down the scene.
SitalRuparelia.com. "We are what we repeatedly do.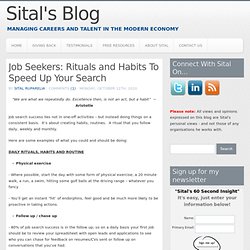 Excellence then, is not an act, but a habit" ~ Aristotle Job search success lies not in one-off activities – but instead doing things on a consistent basis. It's about creating habits, routines. Humans of New York. Daily Painting Practice. - Category: Kenn Backhaus. Contact Kenn Backhaus As a member of an ever-growing family of representational painters across this country, I am dedicated to exploring our surrounding landscape.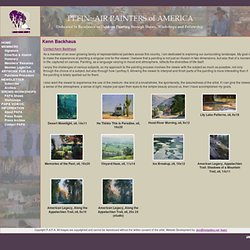 My goal is to make the experience of painting a singular one for the viewer. I believe that a painting is not just an illusion in two dimensions, but also that of a moment in life, captured on canvas. Painting, as a language varying in mood and atmosphere, reflects the diversities of life itself. I enjoy the challenges of various subjects, so my approach to the painting process involves the viewer with the subject as much as possible, not only through the choice of a subject, but also through how I portray it. Peter de Sève. A Sketchy Past, The Art of Peter de Sève In this exquisite monograph, world-renowned illustrator and character designer Peter de Sève shows his favorite published and unpublished works.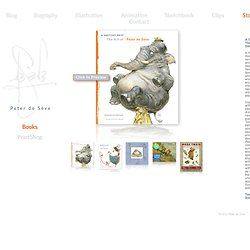 Inventive, eccentric, and often irreverent, they represent a lifetime of drawing... a very sketchy past. Copiously illustrated with hundreds of paintings and drawings, including never-before-published New Yorker cover roughs, behind-the-scenes animation development artwork, and personal sketches, A Sketchy Past is the first comprehensive survey of de Sève's work. A career-spanning biographical essay written by historian Amid Amidi, along with comments from de Sève throughout the book, offer a unique insight into his approach to illustration and his artistic process. Temporarily Sold Out. Paintings by Justin Clayton. How to sculpt. EatSleepDraw. Nuclear Bomb slow-motion simulation. The Library of Congress' Photostream. Original Daily Paintings by Elin Pendleton. Roman Numerals.
The Romans were active in trade and commerce, and from the time of learning to write they needed a way to indicate numbers.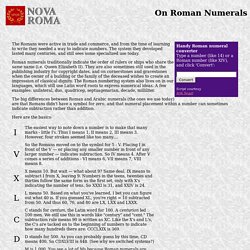 The system they developed lasted many centuries, and still sees some specialized use today. Roman numerals traditionally indicate the order of rulers or ships who share the same name (i.e. Queen Elizabeth II). They are also sometimes still used in the publishing industry for copyright dates, and on cornerstones and gravestones when the owner of a building or the family of the deceased wishes to create an impression of classical dignity. The Roman numbering system also lives on in our languages, which still use Latin word roots to express numerical ideas.
Sculptris: free, user-friendly 3D modeling and digital sculpting program for the masses. Sculptris is a free digital sculpting/3D modeling program that is both powerful and extremely easy to use.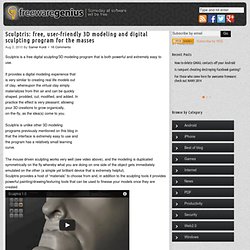 It provides a digital modeling experience that is very similar to creating real life models out of clay, whereupon the virtual clay simply materializes from thin air and can be quickly shaped, prodded, cut, modified, and added. In practice the effect is very pleasant; allowing your 3D creations to grow organically, on-the-fly, as the idea(s) come to you. Www.makeuseof.com/tag/posterazor-simple-tool-posters/ Why is a poster so appealing?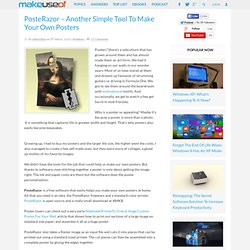 Maybe it's because a poster is more than a photo. It is something that captures life in greater width and height.
---