IoT Standards and Protocols
WebHooks.
Process. Sensor Modelling. MPEG-21. Microformats. HTML Microdata. EEML. IETF. Constrained Application Protocol (CoAP) CoRE Working Group Z.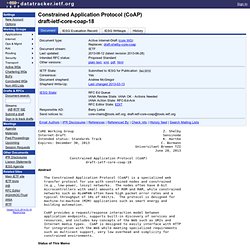 Shelby Internet-Draft Sensinode Intended status: Standards Track K. Hartke Expires: December 30, 2013 C. Routing Over Low power and Lossy networks (roll) Roll-3. ITU-T USN. ETSI M2M. JSON. Web Service Architecture. A Web service is a method of communications between two electronic devices over a network.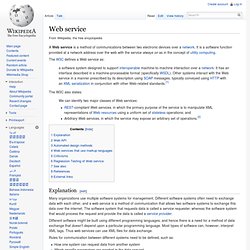 It is a software function provided at a network address over the web with the service always on as in the concept of utility computing. The W3C defines a Web service as: a software system designed to support interoperable machine-to-machine interaction over a network. REST. Representational state transfer (REST) is a software architectural style consisting of a coordinated set of architectural constraints applied to components, connectors, and data elements, within a distributed hypermedia system.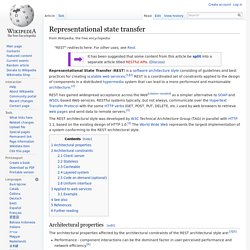 REST ignores the details of component implementation and protocol syntax in order to focus on the roles of components, the constraints upon their interaction with other components, and their interpretation of significant data elements.[1][2] The term representational state transfer was introduced and defined in 2000 by Roy Fielding in his doctoral dissertation at UC Irvine.[1][3] REST has been applied to describe desired web architecture, to identify existing problems, to compare alternative solutions, and to ensure that protocol extensions would not violate the core constraints that make the web successful.
6LoWPAN. 6LoWPAN is an acronym of IPv6 over Low power Wireless Personal Area Networks.[1] 6LoWPAN is the name of a concluded working group in the Internet area of the IETF.[2] The 6LoWPAN concept originated from the idea that "the Internet Protocol could and should be applied even to the smallest devices,"[3] and that low-power devices with limited processing capabilities should be able to participate in the Internet of Things.[4] The 6LoWPAN group has defined encapsulation and header compression mechanisms that allow IPv6 packets to be sent to and received from over IEEE 802.15.4 based networks.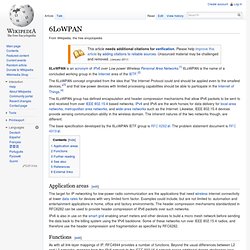 IPv4 and IPv6 are the work horses for data delivery for local-area networks, metropolitan area networks, and wide-area networks such as the Internet. Likewise, IEEE 802.15.4 devices provide sensing communication-ability in the wireless domain. The inherent natures of the two networks though, are different. 6LowApp. The 6LowApp activity of the IETF coordinates work in the IETF to specify application (as well as possibly transport, security and operations) protocols for constrained nodes and networks, the Wireless Embedded Internet. 6LowApp is not itself an IETF Working Group, but is intended to result in the creation of IETF Working Groups.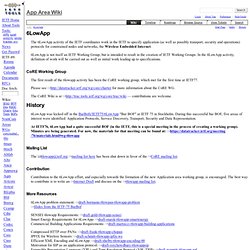 In the 6LowApp activity, definition of work will be carried out as well as initial work leading up to specifications. CoRE Working Group ¶ The first result of the 6lowapp activity has been the CoRE working group, which met for the first time at IETF77. Object Naming Service. Object Name Service (ONS) is a mechanism that leverages Domain Name System (DNS) to discover information about a product and related services from the Electronic Product Code (EPC).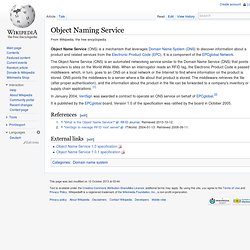 It is a component of the EPCglobal Network. The Object Name Service (ONS) is an automated networking service similar to the Domain Name Service (DNS) that points computers to sites on the World Wide Web. When an interrogator reads an RFID tag, the Electronic Product Code is passed to middleware, which, in turn, goes to an ONS on a local network or the Internet to find where information on the product is stored. ONS points the middleware to a server where a file about that product is stored. The middleware retrieves the file (after proper authentication), and the information about the product in the file can be forwarded to a company's inventory or supply chain applications. [1] EDIFACT. United Nations/Electronic Data Interchange For Administration, Commerce and Transport (UN/EDIFACT) is the international EDI standard developed under the United Nations.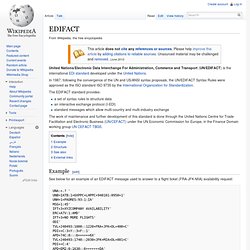 In 1987, following the convergence of the UN and US/ANSI syntax proposals, the UN/EDIFACT Syntax Rules were approved as the ISO standard ISO 9735 by the International Organization for Standardization. The EDIFACT standard provides: Comet (programming) Comet is a web application model in which a long-held HTTP request allows a web server to push data to a browser, without the browser explicitly requesting it.[1][2] Comet is an umbrella term, encompassing multiple techniques for achieving this interaction.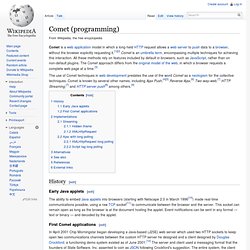 All these methods rely on features included by default in browsers, such as JavaScript, rather than on non-default plugins. The Comet approach differs from the original model of the web, in which a browser requests a complete web page at a time.[3] HTML WebSockets. WebSocket is a protocol providing full-duplex communications channels over a single TCP connection.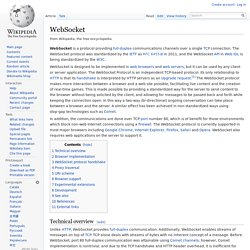 The WebSocket protocol was standardized by the IETF as RFC 6455 in 2011, and the WebSocket API in Web IDL is being standardized by the W3C. Technical overview[edit] Browser implementation[edit] WebSocket protocol handshake[edit] To establish a WebSocket connection, the client sends a WebSocket handshake request, for which the server returns a WebSocket handshake response, as shown in the following example:[9]:section 1.2. Project Atmosphere. IPv6. Ubiquitous ID. OGC. Introduction OGC members are specifying interoperability interfaces and metadata encodings that enable real time integration of heterogeneous sensor webs into the information infrastructure.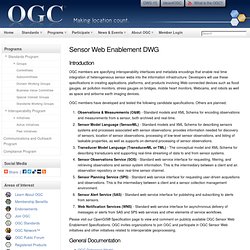 Developers will use these specifications in creating applications, platforms, and products involving Web-connected devices such as flood gauges, air pollution monitors, stress gauges on bridges, mobile heart monitors, Webcams, and robots as well as space and airborne earth imaging devices. OGC members have developed and tested the following candidate specifications. Others are planned. SensorML. 1) Overview 2) Downloads3) Official Schemas 4) Related News 1) Overview The primary focus of the Sensor Model Language (SensorML) is to provide a robust and semantically-tied means of defining processes and processing components associated with the measurement and post-measurement transformation of observations.
This includes sensors and actuators as well as computational processes applied pre- and postmeasurement. The main objective is to enable interoperability, first at the syntactic level and later at the semantic level (by using ontologies and semantic mediation), so that sensors and processes can be better understood by machines, utilized automatically in complex workflows, and easily shared between intelligent sensor web nodes. This standard is one of several implementation standards produced under OGC's Sensor Web Enablement (SWE) activity. EPCglobal. New Version of EPC Air Interface Standard "Gen2v2" is Ratified- Access the standard- View press release and supporting information EPCglobal® is leading the development of industry-driven standards for the Electronic Product Code™ (EPC) to support the use of Radio Frequency Identification (RFID) in today's fast-moving, information rich, trading networks.
Our goal is increased visibility and efficiency throughout the supply chain and higher quality information flow between companies and their key trading partners. Find out more about EPCglobal >> AWISSENET. The OPC Foundation - The Interoperability Standard for a Connected World™ ASAM Connects - Home.
---